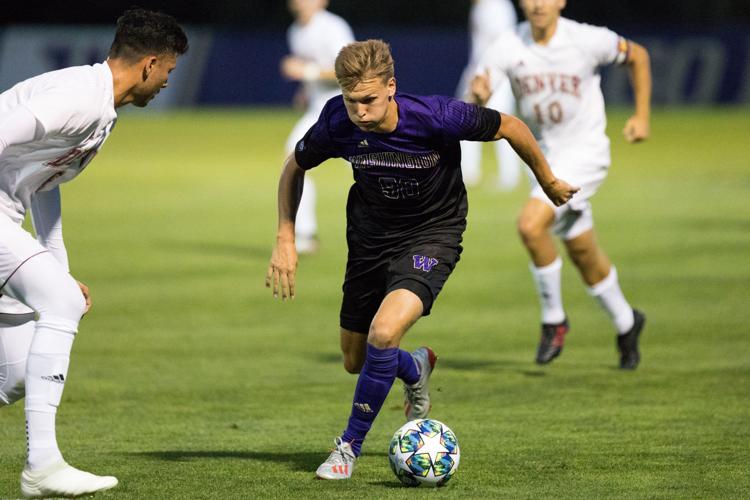 The No. 12 Washington men's soccer team defeated San Diego State 2-0 on a rainy Thursday night at Husky Soccer Stadium —  its first home game in nearly three weeks — and the defense recorded its fifth shutout of the season. 
"Our defense is very good at limiting the opportunities of the opposing team," head coach Jamie Clark said. "What's contributed to our defensive level of success is getting numbers behind the ball and not committing bad turnovers."
Things almost started off disastrously for the UW. Minutes into the game, miscommunication between Washington goalkeeper Sam Fowler and several defenders allowed San Diego State to have an open look on goal. The Aztecs (2-3-1, 0-1-0 Pac-12) took the shot but it bounced off the post and kept the game scoreless.
The tie was broken shortly afterwards when Lucas Meek scored in the fifth minute to give the Huskies (6-1-0, 1-0-0 Pac-12) a 1-0 lead. It's his fourth goal in five games and in only 60 minutes of play. 
"Gio [Miglietti] put a good cross in the box and luckily, the ball bounced off a defender and I put it in," Meek said. "I'm just trying to enjoy the moments and take it in stride because I don't know if this sort of thing will happen again."
The UW is undefeated this season when it scores the opening goal. 
The Huskies continued to feed Meek the ball and he led the Dawgs with four shots in the first half. Shortly after the start of the second half, San Diego State was called for a handball in the box, which resulted in a Washington penalty. Blake Bodily stepped up and converted the spot kick in the 49th minute to double the UW lead. 
"I'm glad I was able to come back home and score another goal," Bodily said. "I already have more goals this year than last year and I'm still reaching for that 10-goal mark that Clark talked about at the beginning of the season."
Bodily had a couple of opportunities to add to his total in the second half. Shortly after he converted the penalty, Bodily had a one-on-one with San Diego State goalkeeper Max Watkin and tried to chip him, but the shot went narrowly wide. He also had a couple more shots throughout the remainder of the game but they either went wide or were blocked by defenders.
Pac-12 opening weekend will continue at Husky Soccer Stadium when Washington hosts UCLA on Sunday, with kickoff at 4 p.m.
Reach sports reporter Le Bui at sports@dailyuw.com. Twitter: @LeBui18