The untimely announcement of Quade Green's academic ineligibility last January marked a detrimental shift for the Washington men's basketball team. Without their starting point guard, the once-promising Huskies sputtered to a disappointing last place finish in the Pac-12.
For Green himself, the days that followed his suspension were among the lowest of his life.
However, thanks to Green's infectiously positive attitude and his tremendous resolve — which his teammate Jamal Bey likened to a "bulletproof mind" — the junior guard is ready to put last season in the rearview mirror.
"I'm not taking no negativity," Green said. "And I'm flipping (the negativity) into some good ideas and good energy, that's all. I messed up last year, but this year is a whole new year, so I got another thing coming for everybody."
Moreover, when asked how he was able to keep an even keel through the past few months, with regards to his suspension and the struggles that have risen in the wake of the COVID-19 pandemic, Green exemplified Bey's coined phrase and his resolute mentality.
"I just block everything out, good or bad and focus on what we need to focus on," he said.
Head coach Mike Hopkins, who raved about Green's work ethic, accountability, and leadership in a Zoom press conference on Monday, has lofty expectations for Green in his second season with the Huskies.
"He's really growing, and he's taken a so-called negative and turned it into a positive," Hopkins said. "I believe he'll be, if-not the best guard in our league, one of the best guards in our league, and maybe even in the country, so we're really, really high on him."
With or without Carter, Huskies prepare revamped offense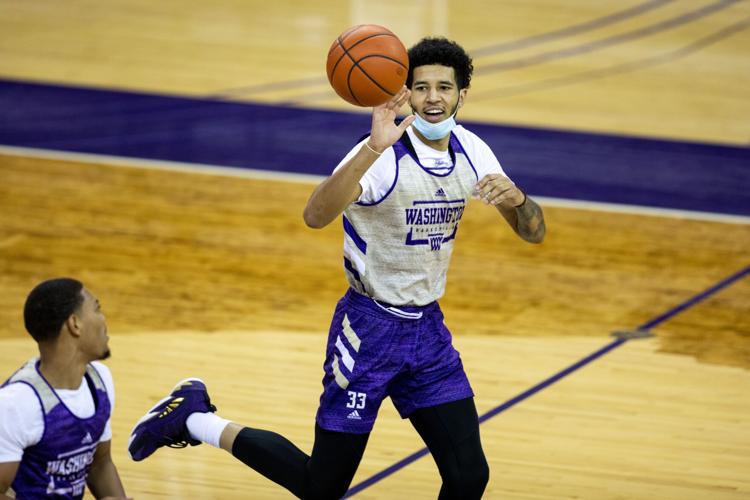 While providing little insight as to the status of suspended senior guard Nahziah Carter, Hopkins emphasized that UW fans will see a revitalized Huskies offense on the court in the 2020-2021 season.
"We're trying to play faster offensively," Hopkins said. "Last year, I thought we shared the ball, but I just felt like our player movement wasn't great, so we've gotten better with our spacing and player movement." 
This tactical change likely comes as a result of the Huskies lack of a prominent big man, which UW's coaching staff has frequently featured as their offensive focal point in recent memory.
Specifically, the Dawgs offense last year was centered around freshman sensation Isaiah Stewart, who led the team in both points and rebounds before departing for the 2020 NBA Draft, along with fellow freshman Jaden McDaniels.
"Sometimes, over the last three years, we've been very post-driven, which limits a lot of dribble penetration," Hopkins said. "So, we've been working on really getting the ball down the court, getting great spacing, and when the ball moves, players move.
"It's just a better flow, better rhythm, and I think we'll be way more effective."
Moving on, junior forward J'Raan Brooks, who last played competitively for USC in 2019 before sitting out the 2019-20 season due to transfer rules, voiced his excitement regarding the team's revamped offense.
"I think we're almost a mismatch for a lot of teams," he said. 
So, while the Huskies' offense of years past may have resembled somewhat of a traditional style of basketball, it is safe to expect more of a high-octane, guard-oriented, penetrate and dish-type attack this season, especially considering the additions of potent three-point threats in transfers Cole Bajema and Erik Stevenson, though both their eligibility remains in question.
"Since we're so fast, we're going to push the ball a lot," Brooks said. "A lot more drive and kick out to the three-ball."
Reach reporter James Price at sports@dailyuw.com. Twitter: @_jamesprice_
Like what you're reading? Support high quality student journalism by donating here.