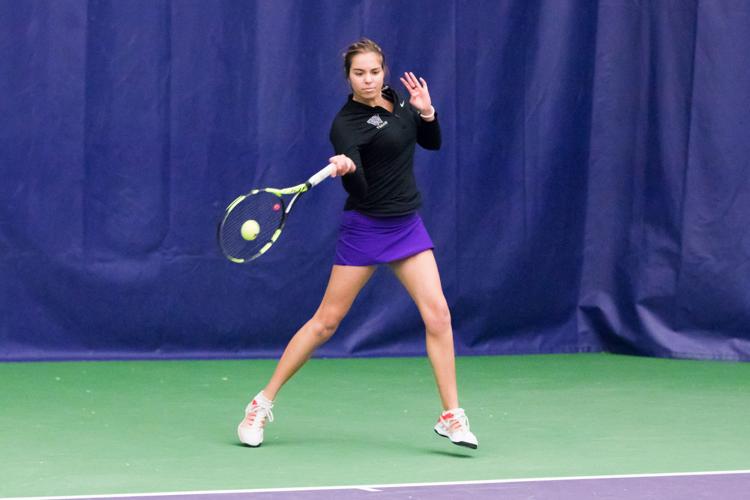 The Washington women's tennis team fought past No. 19 California in a 4-3 victory on Friday afternoon.
The Huskies (16-1, 6-0) are on an 11-game win streak, and have now beaten four ranked teams this season. Out of these wins, three have been decided by one match. The ability to win close matches has carried the Huskies to new heights this season, and has opened doors for unexpected players to make huge impacts.
Freshman Sedona Gallagher carried the torch on Friday, and with the overall match score knotted at three, she had to fight a strong effort from Cal's Maria Smith at No. 5 singles to clinch the victory for the Huskies.
Gallagher won in straight sets but was embroiled in two tiebreakers, winning the first 7-3 and the second 7-5. Smith battled her all match, but Gallagher's ability to stay composed and clinch the Husky victory is a good indicator of her talent level as a freshman. Gallagher is now 12-2 this season in singles play.
The Huskies were down 3-2 at one point, and Gallagher's heroics would have been in vain if not for another freshman, Nika Zupancic. On court 6, Zupancic defeated Cal's Hana Mraz 6-4, 7-6 to give the Dawgs their third point, denying the Golden Bears from getting their fourth and the win. Zupancic was down 1-4 in the second set, but fought back by winning three straight games, and fending off multiple set points.
Zupancic also teamed up with senior Stacey Fung in doubles to defeat the No. 13 ranked duo of Julia Rosenqvist and Hana Mraz 6-3. The pairing of Fung and Zupancic are now 18-5 on the season.
After Friday's emotional victory, there will be little turnaround as an even bigger test awaits Saturday when they face No. 5 Stanford.
Reach reporter Caden Conder at sports@dailyuw.com Twitter: @cadenmconder