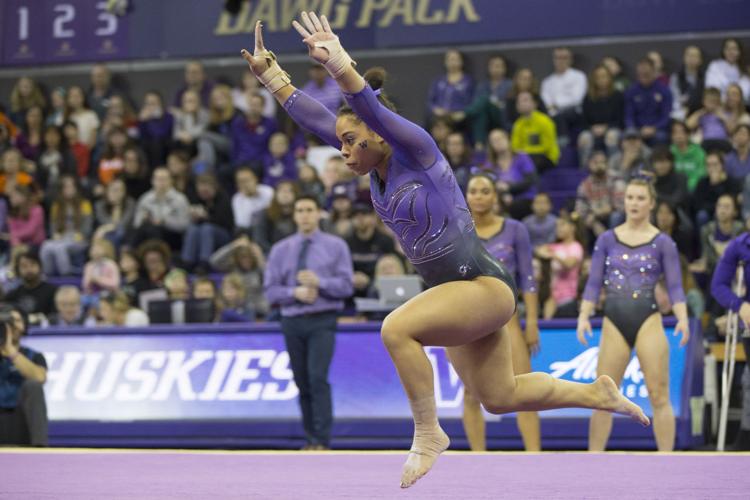 A career night by junior Evanni Roberson highlighted the No. 11 Washington gymnastics team's home opener against Oregon State. The Huskies came a close second with a 195.900 to Oregon State's 196.100, but earned individual event titles on vault, bars, and floor.
Roberson bounced back from a fall on bars last week with a 9.900 to win the event, and went on to score another 9.900 on the beam, and then another on floor. Her bars scored tied a career high, while her floor score set one. That led to yet another career-high on all around, a 39.475, Roberson's first career all around title.
"She's such a rockstar," head coach Elise Ray-Statz said. "She's been working so hard from summer, preseason. She is a leader in the gym, by example, but also by her words, her actions. She's amazing."
Roberson is Washington's go-to on all around. It's her second season competing all four events for the Huskies, after coming out and doing so in her NCAA debut in her sophomore year. The Huskies don't have a set second person competing all four events, with both senior Monica Riley and freshman Brenna Brooks trying out the role so far this season.
Roberson was a bright spot in an otherwise tough meet for the Huskies. Their team performances on the first three events didn't meet the standards they set in Arizona last week, and it was a struggle to find momentum.
"I'm proud of myself," Roberson said. "I'm also proud of the team. It was more of a rough meet for us but I thought we came back really strong on floor."
Roberson's performances led by example for the Dawgs, who turned things around in the final rotation. Floor was the only event where Washington scored above a 49.000 as a team, finishing with a  49.225. It was Washington's best floor performance so far in the season by far.
"Before the event we were like 'hey, it's the last event. We competed really tight tonight, really nervous, and it didn't work,'" Ray-Statz said. "It was like 'one event left, what are you going to do with it?' They just let loose and let their training come out."
Results
On vault, freshman Brenna Brooks was a late scratch, meaning the Huskies had only five vault competitors and each score would count. Sophomore Geneva Thompson continued to be the UW's top vault competitor, winning the event title with a 9.850.
Junior Maya Washington led off with a 9.800 on bars, and junior Madison Copiak scored a 9.850 for a second-place finish.
Washington got off to a rough start on beam after a fall by senior Mallory Rose, meaning there was no room for error as the Huskies other five gymnasts competed. While Roberson's 9.900 and strong performances by freshman Brenna Brooks and Copiak added to the Huskies total, they finished with a 48.875.
Washington's floor lineup, with four gymnasts scoring a 9.800 or higher, was the most successful event of the night. Roberson's score tied for first on the event, and Maya Washington and senior Kristyn Hoffa both scored 9.875s for a tie at third place.
Reach Social Media Editor Hailey Robinson at sports@dailyuw.com. Twitter: @haileyarobin