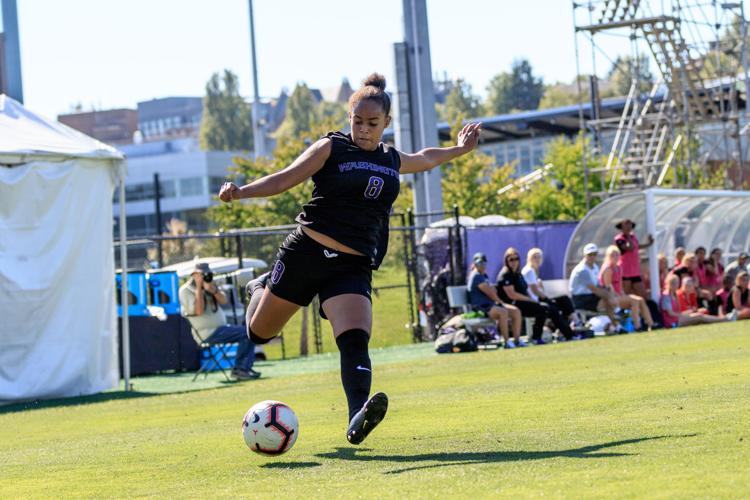 It was a tale of two halves for the Washington women's soccer team, but a late game rally gave the Huskies a 2-1 victory over Utah Valley.
The UW had its back against the wall, trailing 1-0 to the Wolverines (1-6-1) with 10 minutes remaining. Ameera Hussen sent in a shot just under the crossbar in the 81st minute from a Summer Yates assist. The sophomore's first goal of her UW career came at an opportune time.
The scoring wasn't finished for the Huskies. Just three minutes later, Yates weaved through defenders for a clean shot and goal from the top of the box. to give the Huskies (4-2-1) a 2-1 edge with just minutes remaining.
Another key contributor to the UW comeback was keeper Siena Ruelas, who made three saves in the final 15 minutes.
While the second half provided excitement, it was only necessary because of some early  mistakes.
The first half of play presented a lot of opportunity, but was lacking in the execution. Washington was able to get 12 shots up, but only managed to get two on target.
The early defensive performance was bittersweet. The Huskies only allowed one shot for the entire first half, but that shot was all the Wolverines needed to get on the board to carry a 1-0 lead into the break.
The 0-1 halftime score was the first time the Dawgs went into the break with a deficit all season.
The Huskies showed improvements in the second half getting half of their shots on target, and holding the Wolverines scoreless to clinch an undefeated weekend in the Portland Invitational.
Up Next
Washington travels to Seattle for a cross-town away game at Seattle University Sunday Sept. 16 at 5 p.m.
Reach contributing writer Josh Eddy at sports@dailyuw.com Twitter: @JoshTreEddy