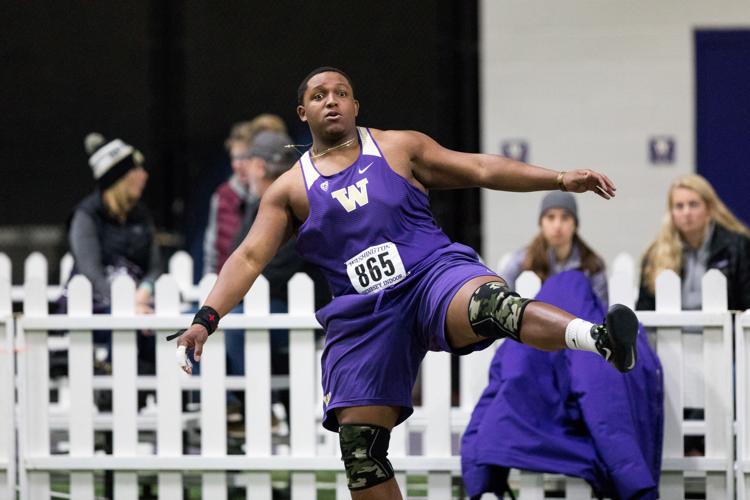 Only four members of the Washington Track and Field competed in Austin, Texas today but they had some impressive results in their respective events.
Two Dawgs threw in Friday's discus final, but Elijah Mason stole the show. In his first throw, the freshman realized the second best mark of his career of 191 feet and 3 inches. That throw was good for seventh in the field of 24 athletes.
He was unable to improve his mark with his next three throws, but he still earned the First Team All-America nod.
The other Husky in that event was Jonah Wilson, who had the eighth best throw in his flight, but 20th best overall. His best throw came on the second attempt and reached 178 feet and 10 inches.
Mick Stanovsek returned to the NCAA outdoor championships for the second year in a row, and improved his place by two spots, with a tenth place finish in Friday's final.
Stanovsek battled with the lead pack for most of the race, then fell behind during the last lap, crossing the finish line with a time of 3:45.64.
The junior earned Second Team All-America honors for the second time in his outdoor career, and still has one year to capture a first team honor.
Hannah Rusnak completed her first day of heptathlon series with a strong start. Rusnak sits in eighth place after the first four events.
She started in the 100-meter hurdles and set a new personal record in the event with a time of 13.51 seconds, which also jumps her up one spot to third all time in school history in that event. She placed ninth in the event and secured 1049 points.
She followed that PR up with two more PRs. She cleared 5 feet and 6.5 inches in the high jump, and then threw nearly a one foot improvement in the shot put of 41 feet and 10 inches in just her first attempt. She placed 12th and fifth, respectively, in those events.
She closed out the day with a 14th place finish in the 200 meter race, with a time of 24.85, to bring her up to 3503 points on the day.
She sits 369 points behind the leader and just 168 points behind the bronze with the final three events to go tomorrow, starting at 11:30 a.m. with the long jump.
Reach reporter Josh Eddy at sports@dailyuw.com. Twitter: @JoshTreEddy
Like what you're reading? Support high-quality student journalism by donating here.