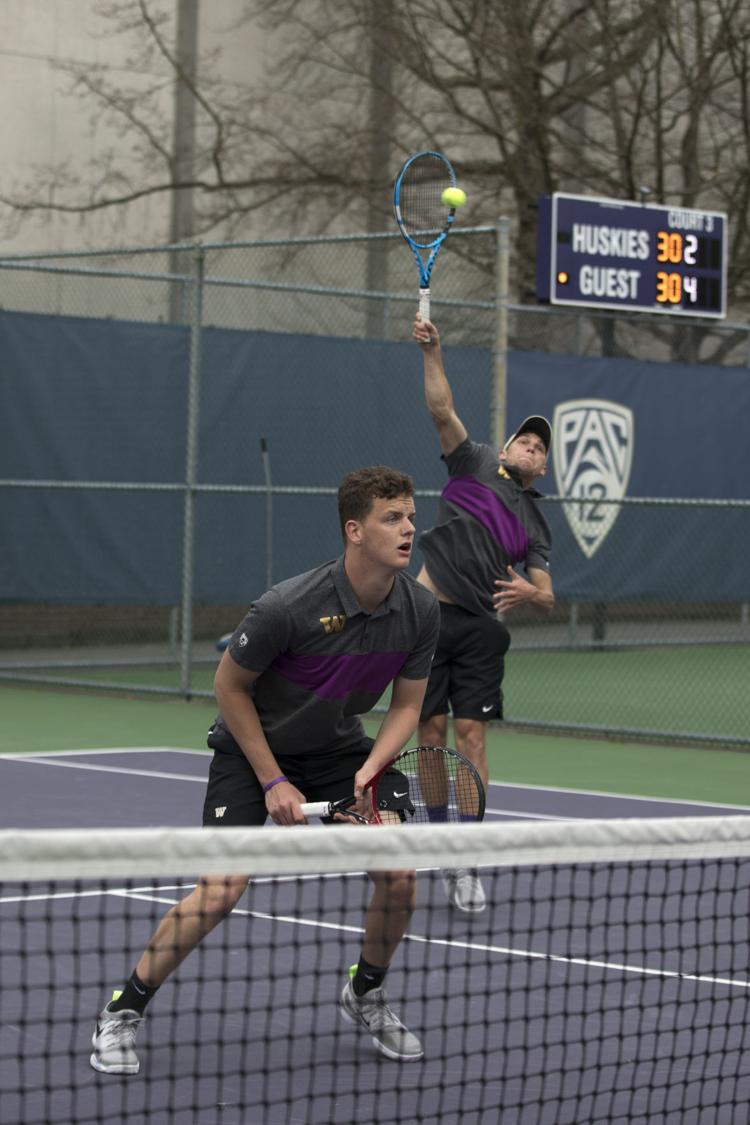 The Washington men's tennis team struggled out of the gate against UCSB and was unable to overcome the rough start, losing a tight 4-3 match.
Slow starts have plagued the Huskies (10-8, 0-2 Pac-12) multiple times this season. It is difficult to bounce back with your backs against the wall early like tonight.
"I felt like we did not come out well, in the doubles and in the singles," head coach Matt Anger said. "We just didn't have the necessary intensity. We weren't playing as tough early on as we were later. Once you get into that situation, anything can happen."
The slow start gave the Gauchos (9-6) an added boost of confidence, and by the time the Huskies figured it out it was too much to overcome.
 "Once you're in the match you know you have a chance," Anger said. "I think anybody watching can tell the difference between how we played in the first half of the match compared to the last half of the match."
The slow start started in doubles as the duo of juniors Kawika Lam and Enzo Sommer lost a quick 6-1 match. The Gauchos clinched the point quickly after that when junior Piers Foley and senior Mitch Stewart lost 6-3.
The Huskies could not turn it around early as they dropped four of the six first sets. UCSB extended its lead when Sommer lost 6-3, 6-3 in the lone one-sided match of the evening.
No. 82 senior Jake Douglas played a tight second set after falling 6-3 in the first set. Douglas had a set point as he was going for a break up 6-5, but No. 94 Nicolas Moreno held serve and won the tiebreaker to give his team a 3-0 lead.
The Huskies had a brief glimmer of hope as freshman Jack Davis picked up a straight-set victory, 7-5, 6-3 as the other three matches entered the third sets.
Due to the slow start, the Huskies had to win all three third sets. Stewart did his job with a 6-3, 3-6, 6-3, but Foley lost moments later, 6-4, 6-3, 2-6 to give UCSB the victory. Sophomore Amit Batta was close behind with a 6-7, 6-2, 6-1 win to make the final score 4-3.
The Huskies know they played a quality opponent, but that does not make them feel any better about the performance.
"I know they're a good team, they're way better than they're ranked," Anger said. "I know their coach, and I think both of us feel that way about our teams, but overall I'm frustrated."
The Huskies return to the court, and to conference play, Saturday as they take on Oregon.
Reach reporter Kyle Gehler at sports@dailyuw.com. Twitter: @KyleGehler