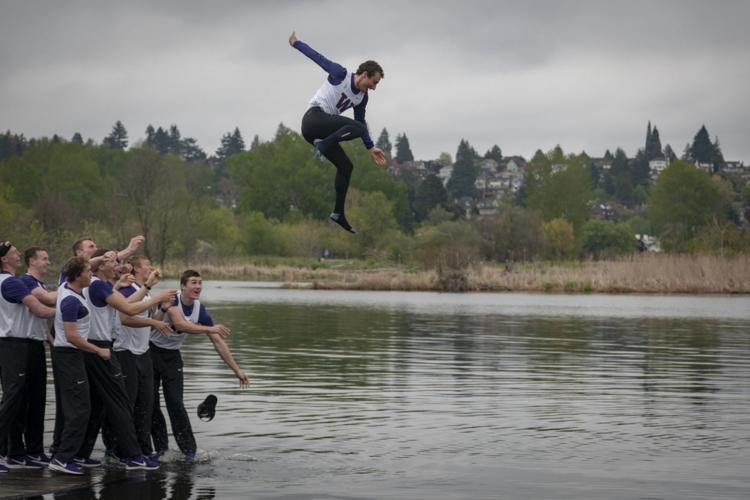 The Washington men's rowing team swept its four races this morning in the Cal Dual on Montlake Cut to win the Schoch Cup for the second year in a row.
"They rowed at a very high level," UW coach Michael Callahan said. "It was blade tip to blade tip from start to finish. It was one of the better Cal Dual's from start to finish that I've seen in a while."
Washington and Cal kicked off the morning with the freshman eight. Behind coxswain Thomas Wenk, the Huskies established a lead from the start and controlled the pace throughout the race. The Huskies finished with a time of 5:51.420 with the Golden Bears coming in at 5:55.961.
The third varsity eight won by a similar margin in the morning's second race. Washington led from the beginning and maintained that advantage with cox Kimmons Wilson. The UW crossed the finish line in 5:43.536, just over four seconds ahead of Cal's 5:47.822.
For the second varsity eight, the Dawgs secured a more narrow victory over the Golden Bears. Cal stayed within striking distance of Washington throughout the 2,000 meters but Washington (5:37.312) finished just over two seconds ahead of California (5:39.853).
In the final race of the Cal Dual, the varsity eight provided a back and forth affair between the Huskies and Golden Bears. Cal raced out to take a lead at the 500 meter mark over Washington with a blistering time of 1:19.4. At the halfway point, the Huskies trailed by a little over two seconds. In the last half of the race, Washington pushed ahead and led at 1,500 meters. The Huskies captured first in 5:32.554, while Cal came in at 5:35.784.
"There's nothing like it," junior Sam Halbert said after winning the V8+. "It's your home course, you have to defend it."
The victory over Cal on Montlake Cut marked an important moment for the Huskies. Washington and Cal demonstrated why they are two of the top collegiate rowing programs on the West Coast and both coaches acknowledge this during the Schoch Cup ceremony following the varsity eight race. But ultimately, it was the Huskies who prevailed in every race, winning on their home course against one of the nation's elite crews. 
"We haven't won here in 6 years," cox Adam Gold said. "It's a long time coming."
The Huskies have a week off before hosting the Windermere Cup Regatta May 4 on Montlake Cut.
Reach reporter Evan Wong at sports@dailyuw.com. Twitter: @evan_wong29
Like what you're reading? Support high-quality student journalism by donating here.