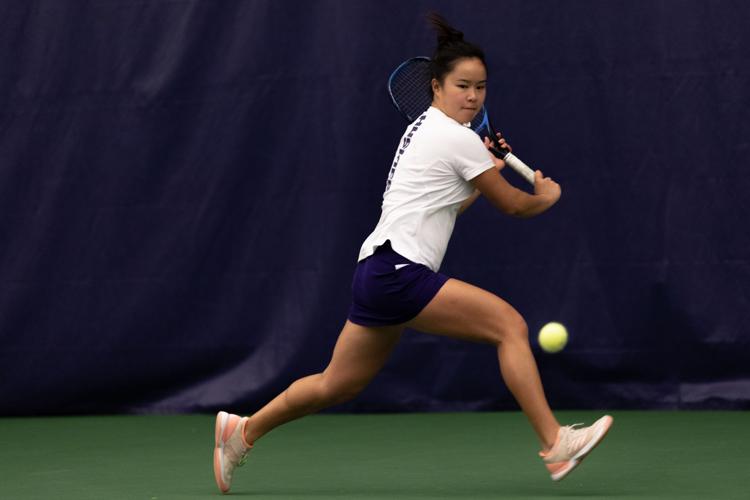 The No. 30 Washington women's tennis team will begin its Pac-12 season Friday, hosting Utah before following that up with a Sunday match against Colorado.
The Huskies (9-3) only lost two matches in the Pac-12 last season and are focused and eager to start conference play this year according to head coach Robin Stephenson. Washington is ranked fourth among the Pac-12, 30th overall, going into the first weekend of conference play.
"It's always exciting to start the conference season, but our preparation is the same," Stephenson said. "We take it one match at a time every match, no matter who we're playing. We respect every opponent the same way, but a lot of energy and excitement going into conference play."
Despite dropping down in the national rankings, the Huskies have been in good form recently, winning five of their past six matches. Additionally, Washington has been strong at home this season, posting an impressive 7-1 record with the only loss coming in the ITA Kickoff Weekend tournament against Princeton in a tightly contested 4-3 affair.
"We're still trying to build on the stuff that we've learned in the first half of our season," Stephenson said. "We've had a little bit of time here before we start the Pac-12 season to work with everyone individually on some of their patterns. Right now, we're focusing a lot on patterns of play and getting confidence through execution and playing a lot of points."
No. 75 junior Vanessa Wong is the only Washington player to be ranked in singles in the latest rankings. Her record stands at 11-1, with her only loss coming against Sonia Smagina of Kansas who was ranked No. 96 at the time. She'll look to carry that form into the upcoming matches.
"We had the weekend off as well and I think having that time off is working on coming back fresh, mentally and physically," Wong said. "Ever since, we've just been working hard getting points and different situations in both singles and doubles. We have a lot of different drills, a lot of different situations that we've been put in to challenge ourselves and be ready for this weekend."
In doubles, Wong and teammate senior Natsuho Arakawa are ranked 59th nationally. The pair's only loss this season was the result of a tough 11-9 tiebreak against Illinois in their past match. 
The Utes (10-3) come into the match this Friday posting an impressive 10 wins on the season. Two of Utah's three losses on the season came in the ITA Kickoff Weekend Tournament. The Huskies will be the third-ranked opponent for the Utes this season. The previous two ranked opponents Utah has played have resulted in a win against No. 33 Denver, but a loss against No. 12 UCF in a close 4-3 contest. 
The Buffaloes (8-4) have struggled on the road this season only winning two out of four matches. Despite struggling away from home, Colorado has won three of their last four matches, giving them some momentum coming into Sunday's match. The Buffaloes play Washington State on Friday before coming to Seattle.
The most recent meeting between Washington and Utah came in the past year's Pac-12 season where the UW prevailed 4-3 in Salt Lake City. The match past spring between the Buffaloes and Huskies resulted in a 4-1 Washington win.
"It's fun," Stephenson said. "We get to know the girls on the team over the course of their four years, so we know what's coming. We've got some rivalries within the conference that we always like to play and I think the girls get up for conference matches. There's familiarity there, so it's different [from the other matches]. It's like a new season, a fresh start, so we're excited to get going."
The Huskies will play the Utes on Friday, March 6, at 1:30 p.m, followed by a match against the Buffaloes on Sunday, March 8, at 11 a.m.
"I think the Pac-12 is always very competitive, so we're going in with a hungry mindset to get the season started and just going out and having fun," Wong said. "I think both Utah and Colorado are going to be tough teams this weekend, so we're going in excited and ready for battle."
Reach reporter Luka Kučan at sports@dailyuw.com. Twitter: @luka_kucan
Like what you're reading? Support high-quality student journalism by donating here.