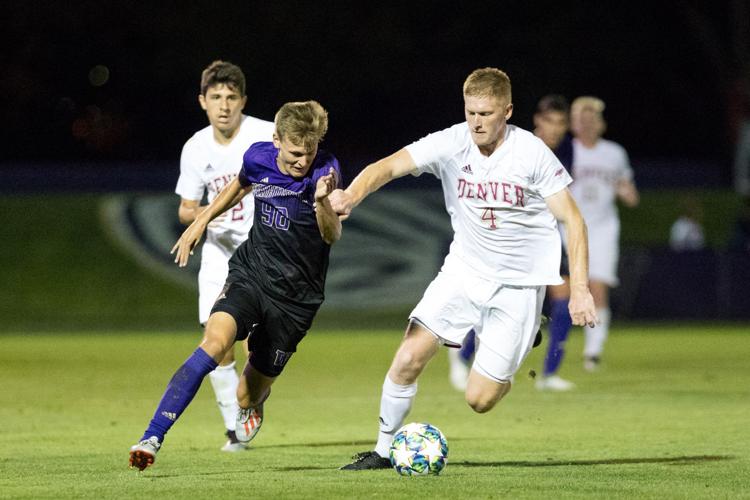 After an undefeated start to its season at home, the Washington men's soccer team is looking to carry forward that momentum into their first road matches of the year. 
As a result of their two wins over previously ranked Denver and San Francisco, the Huskies (2-0-0) went from receiving votes in the United Soccer Coaches poll to No. 13. 
"We have a tough, disciplined team and they left it all on the line out there," head coach Jamie Clark said. "I believe we are beginning to figure out our M.O. and helping some of the younger guys gain some experience that they'll need as we continue to progress."
Clark was serious about his plan to give his newer players some experience, giving redshirt juniors Ryan Sailor and Jasper Malamud and freshman Sam Fowler their first collegiate start in Monday's game against San Francisco.
The UW's first road game is against No. 16 Michigan State at DeMartin Soccer Stadium in East Lansing Friday at 4 p.m, but to Clark, this means more to him than just a regular season match.
"Michigan State knocked us out of the Sweet 16 a couple years back," Clark said. "Granted, most of our players weren't on the team back then but I've always wanted the chance to get back at them."
Clark and the Huskies are going to have their work cut out for them because the Spartans are well-known for having one of the top defenses in the country and have only given up one goal in their two games thus far this season.  
"It's going to be a tough task ahead of us for sure," defender Ethan Bartlow said. "I think all we can do is prepare by watching film and fighting their defense with our defense."
After the Michigan State game, the UW will get one day of rest before heading off to face Michigan across the state in Ann Arbor Sunday at 3 p.m. Clark believes this is when having depth on the roster comes in handy.
"Our starting guys are going to be tired from the Michigan State game so we're going to need our other guys to step up," Clark said. "Luckily, I believe we have the deepest roster of any team in the country, and it's our chance to prove it."
Clark is not the only one that believes his bench players can make a resounding difference. Star midfielder Blake Bodily echoes his coach's confidence and has complete faith in his team.
"A lot of us [starters] will be playing against Michigan State and it's going to take a toll on us heading into the Michigan game," Bodily said. "However, our roster is pretty deep and I trust that my teammates can hold down the fort for us when we are unable to."
Reach reporter Le Bui at sports@dailyuw.com. Twitter: @LeBui18
Like what you're reading? Support high-quality student journalism by donating here.