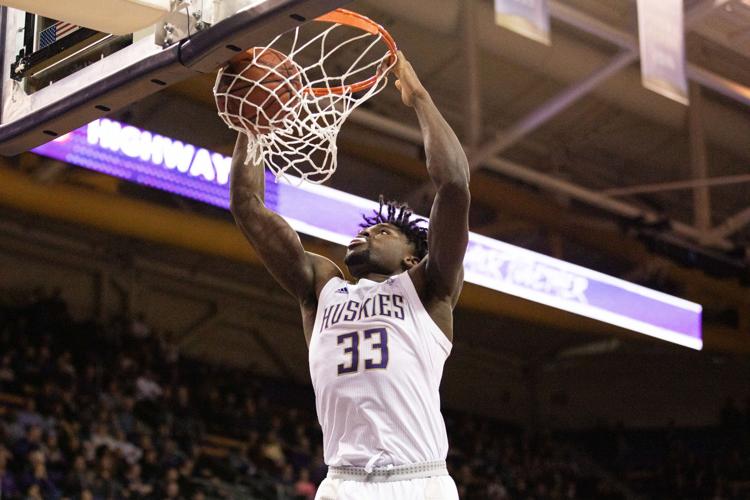 Spearheaded by its three highly-touted newcomers, the No. 22 Washington men's basketball team pulled away from Ball State 85-64, in its Diamond Head Classic opening win in Honolulu, Hawai'i. 
The trio of Quade Green, Jaden McDaniels, and Isaiah Stewart combined for 62 points, 18 rebounds, and 10 assists in a mostly dominant performance. 
The first half saw the Huskies (9-2) get out to their best offensive frame of the season. Shooting 63% from the field, and draining eight of its 12 three-point attempts, the UW was flying on offense and moving the ball effortlessly to the tune of 51 points. 
McDaniels led the Huskies with three shots from distance, 13 points, and two blocks at the break, rivaled by Green, who also had 13 points with three long-range shots. Stewart rounded out the UW squad in double figures at the half, notching 11 points to help the Huskies to an 11-point advantage. 
The beginning of the second half was a much different story. With just two turnovers at the break, Washington had four turnovers in just the first four minutes of the second half as the Cardinals (6-5) got out to a 6-0 run. 
It wasn't until the 15:44 mark before the Huskies got on the board in the second half, when Green split a pair of free throws after being fouled on a layup attempt. The UW wouldn't record its first basket until Green hit a turnaround jumper on the next offensive possession with 15:09 left on the clock, almost five minutes into the second half. 
But while the offense struggled, the defense flourished. There was an eight minute stretch midway through the second half that saw the UW give up just one made basket, and the Cardinals shot just 32.1% from the field. 
The Huskies got back on track offensively midway through the frame going on a long run that culminated in a Nahziah Carter fastbreak coast-to-coast dunk that brought the UW bench to its feet.
The Huskies road their defense to an opening-round victory in the tournament, and along with a strong performance from its big three newcomers, Hameir Wright notched 10 points with three blocks and Carter dropped eight points. 
Up next
The Huskies will await the winner of the matchup tonight between Hawai'i and UTEP, which will play the Huskies tomorrow at 8 p.m. PT.  
Reach Sports Editor Alec Dietz at sports@dailyuw.com. Twitter: @AlecDietz
Like what you're reading? Support high-quality student journalism by donating here.