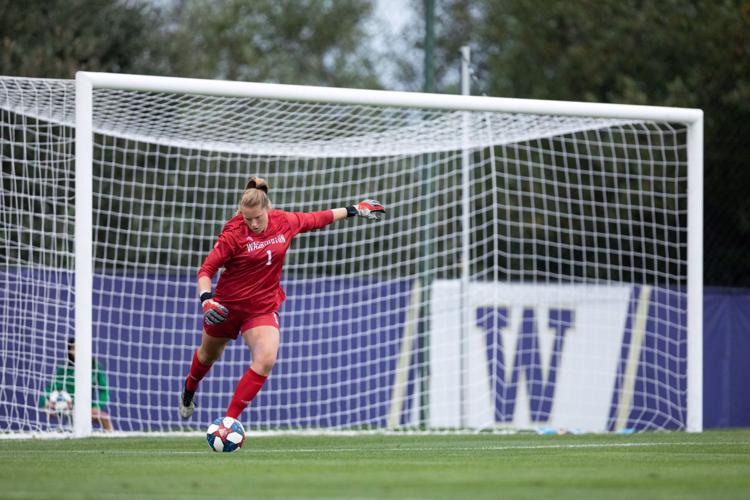 The season opener for the Washington women's soccer team was bittersweet; on the one hand, the Huskies recorded a shutout, but on the other, the UW failed to produce a goal.
The opportunities were there for Washington. The Huskies were aggressive in the attack, putting up 19 shots in a 0-0 draw against Portland.
The Pilots only struck 5 shots toward the Huskies' direction.
"I thought we were getting after them on the flanks," head coach Lesle Gallimore said. "I thought we had some good decent flank service, we had some good looks in front of goal. Unfortunately, I don't think we really forced their keeper to make that many saves."
The Huskies (0-0-1) were not able to reach last season's shot on goal percentage average of 41%; they only got 37% of their shots on target tonight. 
Sophomore Ruby Hellstrom started off aggressively, putting up five shots in her first 21 minutes of action. Three of those shots were on target, but she was unable to reach the back of the net on any of them. She ended the match with a team-high six shots.
"It all comes down to those 15-20 minutes, we need to put one away, and really then put the foot on the pedal and finish them off early, because I think the first 15-20 minutes there was no question that we had the game," Gallimore said.
Washington only allowed one shot in the first 45 minutes of play, but it only came because of a blunder by the UW back line. Defender Lisa Jensen's pass was intercepted in UW box, and Portland's Larkin Russel pounced on the opportunity with a clean look at goal. Sophomore keeper Dani Hansen blocked the shot with her leg, then snatched up the ball to save the goal.
Hansen only faced one other shot on goal for the rest of the game and was able to save it en route to her first career shutout.
"I've kind of been preparing for this for the last year, so I really feel like I'm coming into it as a sophomore, and I can make some big impacts this year," Hansen said.
UW had success in earning set pieces with 13 corner kicks in the game. Makena Carr, now shoulders the load of feeding those corners with Pascale Dumesnil departing last season, who primarily held that responsibility for the Dawgs.
"She had some very dangerous service, it got better as the game went on, she was driving the balls a little bit more," Gallimore said. "Now it's just a matter of us finding first and second chances and beating our player to the ball and being more aggressive, and getting them on frame."
Washington continues its home stand this Monday, Aug. 26, hosting cross-town rival Seattle U at 7 p.m.
Reach reporter Josh Eddy at sports@dailyuw.com. Twitter: @JoshTreEddy
Like what you're reading? Support high-quality student journalism by donating here.