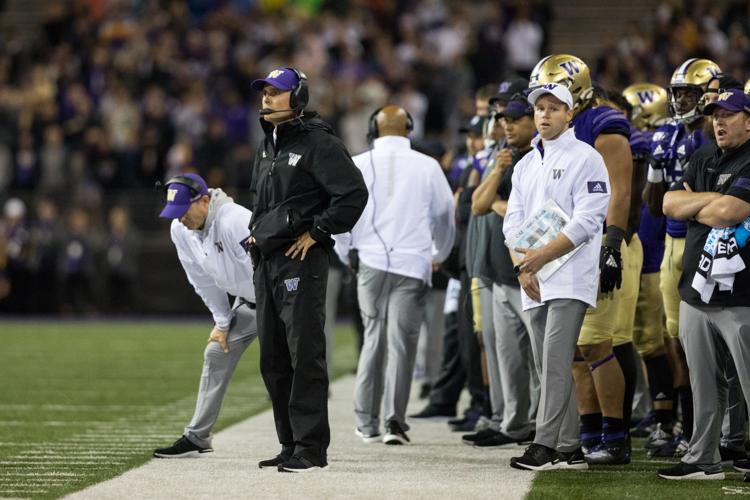 At 10:08 p.m., roughly two hours and 17 minutes after falling into an extreme weather delay in the No. 14 Washington football team's Pac-12 opener against California, head coach Chris Petersen walked out of the UW tunnel, grabbed a microphone, and roared to a sparse crowd: 
"Can you hear me, Dawg fans? We're rolling at 10:30. Call your friends and get them back in the stadium."
What was left of an original crowd of over 66,000 made as much noise as it could and rushed back to its seats.   
Starting again at 10:30 p.m., the delay totaled two hours and 39 minutes. As the Huskies trotted out on offense, there was 9:46 to go in the first quarter in a scoreless game. 
Despite the frenzied energy from a crowd that couldn't have totaled more than 15,000 and a Peyton Henry redemption 49-yard kick that put the Huskies (1-1, 0-1 Pac-12) ahead in the final moments, the UW ultimately fell to Cal, 20-19, in another defensive slugfest. 
It was another game of what-if's for the Dawgs, who got out to a 10-0 lead after the delay, including a nifty 21-yard touchdown run from Salvon Ahmed on a fourth-and-short. But Washington saw that lead disappear after the Golden Bears (2-0, 1-0 Pac-12) plowed their way over the UW defense on their first drive of the second quarter, capped off by 20-yard touchdown run from Marcel Dancy. 
 "I feel like the game picked up right where it was," Bryant said about the team's performance after the delay. "But we just needed to come out with a little more edge and energy, I don't think we did a good job of doing that."
The first offensive touchdown given up the UW defense against Cal since 2016 was quickly followed up with another Bears' score, in the form of another Dancy run in the waning minutes of the third quarter. What was once a 10-0 lead was now a 17-13 deficit. 
"We need to tackle better, I think that showed up tonight," Petersen said. 
But while the defense had one of their worst performances against Cal in years, the offense was having trouble finishing drives. In the first half, the UW started in Bear territory twice, and only scored seven points from that Ahmed run, with the other possession resulting in a Jacob Eason interception. 
In the second half, the Huskies put together two long drives of 14 and 17 plays, but both resulted in field goals. On their second-to-last possession, Eason got them close enough to have Henry boot the go-ahead field goal, but the defense let Cal march all the way down the field to let Greg Thomas hit the chip-shot game-winner.
Eason finished 18-of-30 for 162 yards, no touchdowns, an interception, and a lost fumble after a scintillating performance against Eastern Washington. 
"We have to get our passing game into a better rhythm," Petersen said. "It seemed like we were out of sorts there and not throwing it like we're capable of, and want to throw it. We had some drops that kind of stymied us a little bit, that hurts a little bit. It's tough sledding, it's a good defense we're going up against, a good secondary. So all that kind of adds up."
Another devastating loss to the Bears is made even tougher by the fact that it was under the lights of Husky Stadium, even with a scattered crowd, and in the Huskies conference opener. 
They'll have to blot of those negative thoughts as they look ahead to Hawai'i next week, which has already dispatched two Pac-12 schools in Arizona and Oregon State. 
"We just have to go back to work, clean some things up," Petersen said. "That's all on us."
Reach Sports Editor Alec Dietz at sports@dailyuw.com. Twitter: @AlecDietz
Like what you're reading? Support high-quality student journalism by donating here.