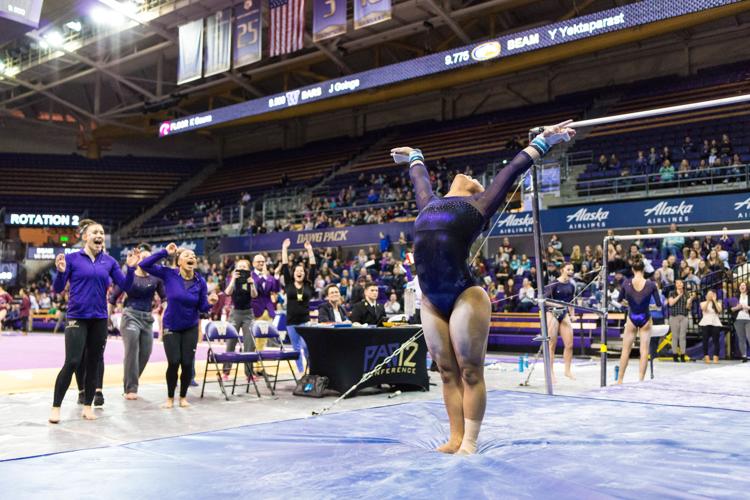 The No. 8 Washington gymnastics team heads into one of the most stacked fields in college gymnastics at the Pac-12 championships, with six of the conference's eight teams among the top 25 in the nation and Stanford not far behind. In the Pac-12, the Huskies are seeded behind No. 3 UCLA and No. 4 Utah.
The third seed places the Huskies in the second section of the conference championship in Tucson, Arizona competing with UCLA, Utah, and No. 10 Cal at 6 p.m. Saturday. The team will start on floor and proceed in Olympic order, moving to vault, then bars, and finishing the meet on the event that has been their strongest this season, beam.
Following what has almost certainly been Washington's strongest season in a while, the team is heading into the postseason with confidence.
"Our goal is to go into post season with belief that we can keep getting better each meet," head coach Elise Ray-Statz said. "We're proud of what we've done so far but there's still a hunger to get even better."
The Huskies have earned four scores of 197 or higher so far this season, and it's a trend they'll look to continue. Last season's team scored two 197s, one in the postseason at the Pac-12 Championships. Having already improved upon the 2018 regular season, the goal is to now improve on last year's postseason, which resulted in a third place finish at Pac-12s and an eighth place finish in the country.
After last meet, where the Huskies weren't satisfied with their performance in the early half of the competition, the team looked to bounce back to where they want to be in time for the Pac-12 championship.
"Definitely getting back in the gym and really focusing on those little details," senior Hailey Burleson said. "We want to prove ourselves at Pac-12s. We're in post-season so we really want to stay in tune and do what we know how to do for the rest of the season."
Starting the meet on floor, one of the Huskies strongest events, will help the team bring the energy they need to perform at a level that will allow the to achieve a high score at the Pac-12 Championships.
The competition will start at 6 p.m., following Oregon State, Arizona State, Stanford and California competing in session one. The meet will be broadcast on Pac-12 Networks.
Reach Managing Editor Hailey Robinson at sports@dailyuw.com. Twitter: @haileyarobin