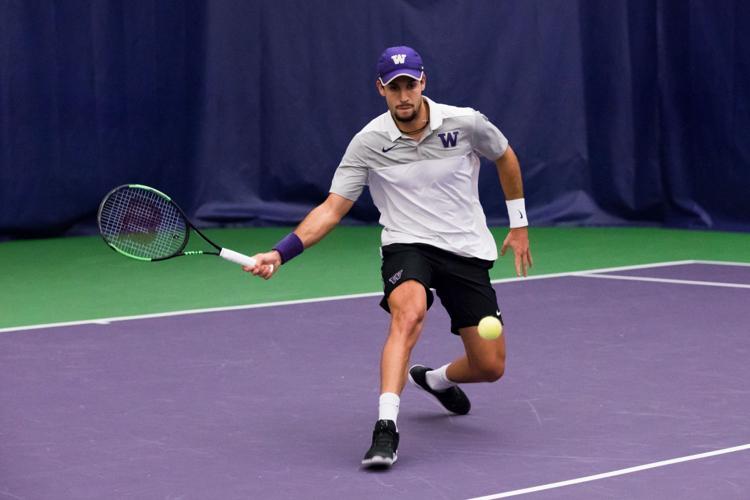 The Washington men's tennis team returned home Friday to face Liberty, which gave the Huskies a strong test all night. In the end, it came down to Court 4, where Ernesto Turegano —  already down a set in his singles match — began to mount his comeback against Liberty's Ian Sturgill. 
"I felt really good with everyone behind my back supporting me," Turegano said. "I wasn't as nervous as I expected and with the crowd supporting me, I knew I could do it."
His third set went back and forth, with neither Turegano nor Sturgill gaining the upper hand. Up 4-3, 40-0, it felt as though the tides of the set were shifting in favor of Turegano. Consistent with the theme of the night however, Sturgill fought past four break points to win the game and tie it up at 4-4.
Turegano finally capitalized in the next game, to take the lead 5-4 in the third set, then closed with a break of serve to win the set, match, and clinch the 4-3 victory for the Huskies.
"As a freshman in his fourth college match he did really well and showed a lot of poise," head coach Matt Anger said.
In the doubles portion of the match, Liberty showed it came to play by holding serve early and remaining even with the Huskies. Neither team was able to gain more than a one game advantage, until Kawika Lam and Enzo Sommer developed a 4-2 lead against their liberty opponents.
These doubles matches were played at a high level, with both teams fighting for every point. Lam and Sommer were able to close out their match 6-4, but Piers Foley and Jack Davis fell 6-4. Freshman pairing of Kasper Smith and Adam Torocsik also competed well, but lost 6-3, allowing Liberty to clinch the doubles point.
In singles, the intensity of the matches ratcheted up, as both teams realized how crucial every game was. Freshman Ewen Lumsden won his match 6-2, 6-2 senior Sebastien Hawken won 6-2, 6-1, and sophomore Jack Davis won 7-6, 6-1. Seniors Piers Foley and Enzo Sommer both lost in heartbreaking fashion, losing second-set tiebreakers to give Liberty two more points.
With the overall score at 3-2, all eyes turned to Foley and Turegano, who both were already down. In order to clinch the match, one would have to make a miraculous comeback.
Foley almost did it all himself, scraping back and forcing a second set tiebreaker, but with neither player able to gain any traction in the tiebreaker, Foley eventually fell 12-10.
That made the match 3-3, and put it all on Turegano, who came through.
The UW hopes to replicate that success this year, and tonight's victory could be the jumpstart this team needed. The Huskies are a young team, and the maturation of the freshman will be a consistent factor in the team's success this season.
The Dawgs will look to build on Friday's win when they host Santa Clara on Sunday, Feb. 3.
Reach reporter Caden Conder at dailysports@uw.com Twitter: @cadenmconder
Like what you're reading? Support high-quality student journalism by donating here.