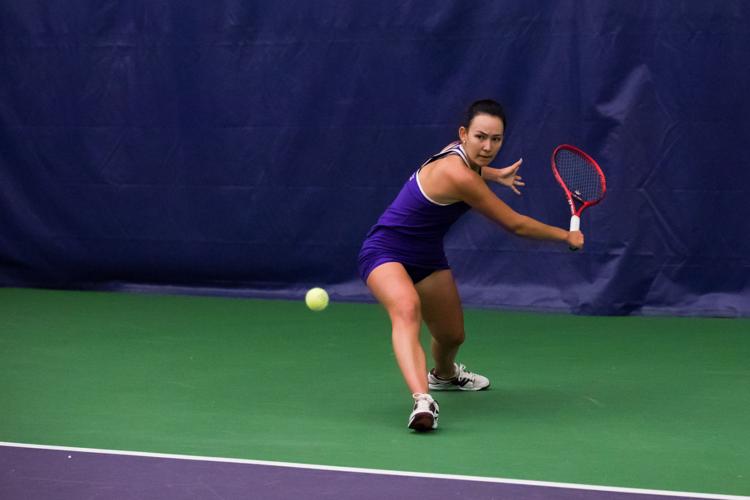 Senior No. 65 Stacey Fung is closing out her career at Washington by going to her third consecutive NCAA singles tournament. Fung is up for the challenge and will try to improve on her previous two appearances that saw her get eliminated in the Round of 32.
"It's exciting," Fung said. "I think this year that was definitely secondary towards the team aspect of the tournament. Just being able to play there is another exciting tournament and to go to Orlando and play some more tennis is always fun. So I'm looking forward to it."
Fung went 11-6 this season, including a key run at the end of the season that saw her beat No. 32 Michaela Bayerlova of Washington State and No. 42 Jada Hart of UCLA to secure her place in the field of 64. Fung also owns a monumental upset over No. 10 Sophie Whittle of Gonzaga, who was ranked No. 1 at the time.  
The senior will also be playing in the doubles tournament alongside freshman Nika Zupancic. The 29th ranked duo had an outstanding Pac-12 tournament by beating the top-ranked doubles team of Lauryn John-Baptiste and Ilze Hattingh from Arizona State in a tiebreaker, and was leading the No. 4 team of Gabby Andrews and Ayan Broomfield from UCLA when the point was decided.
The tournament is hosted by the University of Central Florida and will take place at the USTA National Campus from May 20-May-25 at the conclusion of the team tournament, where the Huskies received the No. 10 overall seed.
Reach reporter Kyle Gehler at sports@dailyuw.com. Twitter: @KyleGehler