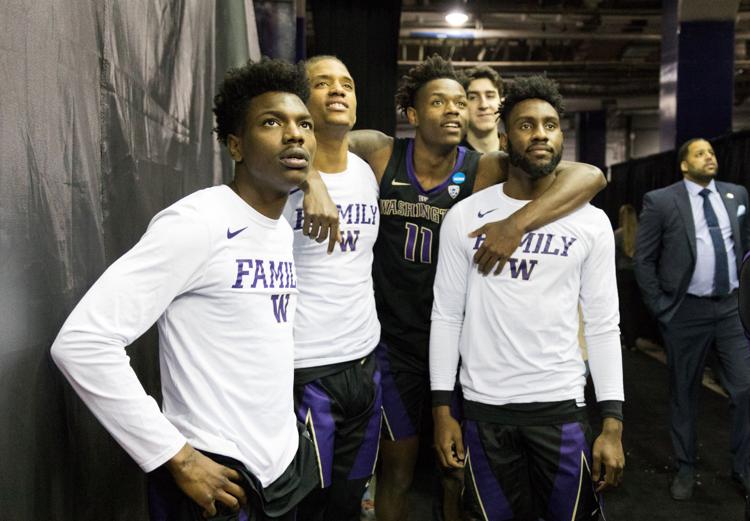 While the Washington men's basketball team undoubtedly wanted to pull off the major upset over No. 1 North Carolina and advance to the Sweet 16 for the first time in nine years, the season the Huskies had is still a significant success, especially considering where they were not too long ago.
Just two short years ago the Huskies put together one of the most disappointing seasons by a Power-five conference team in recent memory. The presence of future top pick Markelle Fultz was not enough to lift the Dawgs to double-digit wins.
Five critical contributors on this year's squad were also on that nightmare season. For them, it has been a rollercoaster journey at the UW.
"Coach Hop came in, and he told us we weren't going to be rebuilding, we were going to be taking over," Matisse Thybulle said. "A lot of it was just believing in him. We bought in from the jump, and in a matter of two years we were able to do just that, and that is takeover the Pac-12."
The experience that this gives to key underclassmen such as Jaylen Nowell, Nahziah Carter, and Hameir Wright could go a long way in helping the Huskies go deeper in the tournament in the near future.  
"It means a lot and watching this on TV when we were playing, it was like, 'Bro, we are actually playing in this tournament that we watched throughout high school,'" Carter said. "We definitely want to get back here, so that is going to be the focus this spring and summer."
Coming off back-to-back season with at least 20 wins, Hopkins is trying to take that step to the next level and build Washington into perennial contenders and recognizes the boost that this season could have on that.
"The younger guys got some minutes, and they got a chance to feel what this is all about," Hopkins said. "That I think is the greatest thing that could happen for our program as we build forward is to feel it, see it, and experience it."
Going forward the future looks bright for the Dawgs. They lose Matisse Thybulle, David Crisp, Noah Dickerson, and Dominic Green, but they bring in top-10 recruit Isaiah Stewart to join a top-25 recruiting class that includes guards RaeQuan Battle and Marcus Tsohonis. They are also one of the finalists for top-five recruit and Federal Way high school alum Jaden McDaniels.
The Huskies also expect to have bigs Bryan Penn-Johnson and Nate Roberts suit up, both of whom redshirted this season. Once conference play begins, Kentucky transfer Quade Green will be eligible to run the point.
Pair those new additions with the core of Nowell, Carter, and Wright, not to mention the more prominent roles for Jamal Bey and Elijah Hardy and it is not much of a stretch to say that the Huskies may be dancing deeper into March next year.
"I think people will be surprised to see how talented they are," Thybulle said. "They didn't get many opportunities to showcase it this year, but those kids ooze talent. They got more than enough to carry on what we started this year."
Reach reporter Kyle Gehler at sports@dailyuw.com. Twitter: @KyleGehler