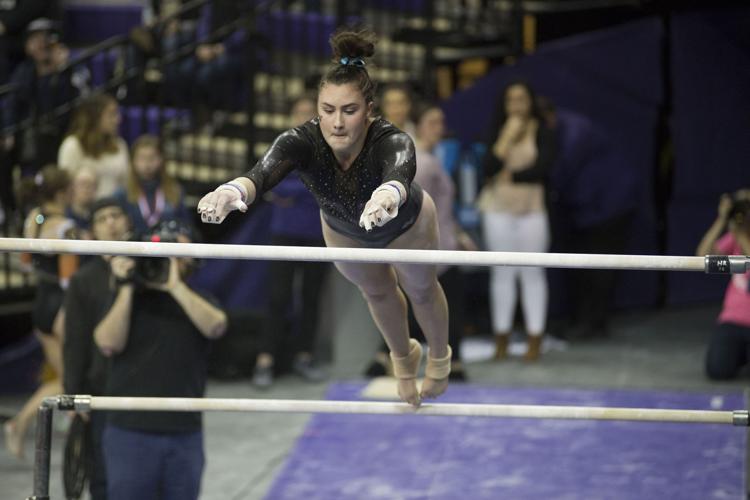 Monica Riley doesn't believe in gravity.
Well, not really, but when the UW senior gymnast is doing her bars dismount, the lines get blurry.
"I feel like I'm flying," Riley said. "Gravity doesn't always feel like it's there."
The uneven bars can be harrowing to watch, as gymnasts fly through the air from high bar to low bar and back, swinging around and handstanding on rods of fiberglass and wood.
"I think with bars you have force, you have momentum, you have angles, you have speed," assistant coach Ralph Russo, who works with the team on bars, said. "You let go and you regrasp the bar. There are so many things you have to control that your mind has to adapt and be focused ever so quickly."
It's clear, just watching the Huskies transition between bars and vault, that there are different skills at play on the bars than on vault, beam, and floor. Those three events have a lot to do with power, and swinging around a bar is a little different.
"I'd say the one thing that makes bars unique is that it's not really a leg event," Riley said. "You can get the longer lines, and you can just let it swing and be a little more natural."
Riley is one of Washington's top bars competitors, alongside junior Madison Copiak, who is ranked No. 15 in the country in the event.
"It comes a little more naturally than some of the others," Copiak said. "I enjoy swinging, and I tell myself before I do my routine to enjoy the swing and the feeling of bars. I think that's one of the main reasons I love it so much."
At dual away meets, where the UW is the only visiting team, the Dawgs start off on bars. It's something they feel is an advantage — a strong bars rotation kickstarts a high-energy meet for the other three rotations.
"It's a good consistent point for us, where we know we can go out and hit a good bar lineup," Copiak said. "It kind of sets the tone."
Copiak led the team to a 49.275 on bars against Arizona last week with a 9.900 and her first bars title of the season. It'll likely be the first of several bars titles this season, though she's in close competition with Riley, who had a breakout season on the bars last year.
Riley was just behind Copiak with a 9.875 last week. A fall in the middle of the rotation meant the remaining three gymnasts, Riley, Copiak, and freshman Brenna Brooks, would all have to hit their routines with little room for error. It wasn't a cause for concern, though.
"I feel like we've really been building up as a bar team," Riley said. "All of us have grown in our confidence and we have a lot of trust in each other. We have each other's backs so I think that's been really crucial to our success."
Up next
The Huskies will finally get some home action this Saturday when they host No.19 Oregon State at Alaska Airlines Arena at 7:30 p.m. The Beavers are coming off a 195.450 last weekend in Salt Lake City.
Reach Social Media Editor Hailey Robinson at sports@dailyuw.com. Twitter: @haileyarobin
Like what you're reading? Support high-quality student journalism by donating here.