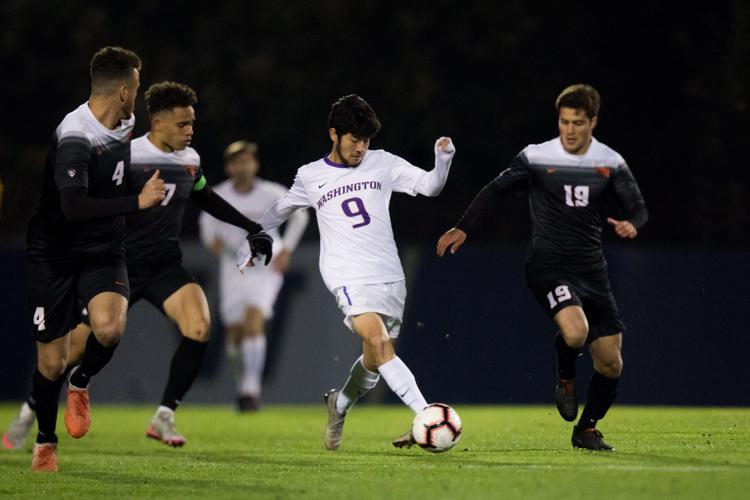 For the third straight year, the No. 25 Washington men's soccer team has made it to postseason play. And for the third straight year, it gets a home game to start off its NCAA Tournament run, this time against Lipscomb, a school located in Nashville, Tennessee, winners of the Atlantic Sun Conference Tournament.
"We feel great at home right now, and it couldn't have come at a better time in terms of a run into the tournament," head coach Jamie Clark said. "There's two sides to it. I never feel like it's the NCAA Tournament until you hit the road. There's just something about going to a new place and playing an unfamiliar face. It feels like a regular season game when you get to do all the regular stuff that you usually do, but that's a good thing."
Clark's team finished the regular season winning four consecutive home games by 2-0 scores, and will go into Thursday night's game almost completely healthy, with the exception of redshirt junior Joey Parish, who continues to be hampered with a hamstring injury.
If Parish is absent once again, the midfield will be without one of its stars for at least this first round matchup. However, an unheralded, often unseen piece in that area of the field, junior John Magnus, may hold the key to victory. Magnus has only four shot attempts all year and has no other stats to his name, but he uses his all-around expertise on the ball to help the rest of his teammates generate opportunities.
"God, we wish he had a few more stats because he's so unselfish and he never shoots the ball," Clark said. "I think that's something I believe will change into his senior year, but for this year, he just likes to circulate the ball, win battles in midfield and share it, basically. While we would like him to be greedier at times, it's just not in his nature. He's just truly a consummate team player. Technically, he's maybe the most gifted on our team, and getting out of tight situations, he's absolutely brilliant. He's kind of a magician."
Lipscomb started its season 2-7-0, but won seven of its last nine game to finish the season 9-9-0. The Bison went 2-1-0 against ranked opponents, defeating then-No. 24 Florida Gulf Coast and then-No. 10 Louisville, the tournament's fourth overall seed.
"I think it went from immediate joy of an unknown team, not a headlining team in terms of history and tradition, but very quickly once we started watching film, the game against Louisville they won 3-2, they deserved to win. They didn't sneak out of there, they deserved to win. That was some good tape to show to our guys."
The Bison have a pressing style of play high up the field reminiscent of what the Huskies have done historically, but Clark and the coaching staff have placed more and more emphasis throughout the year on pressing smarter, not harder.
"That's been our blessing and our curse," Clark said. "As a pressing team, you sometimes get exposed and leave your back four out to dry, and that's what we've noticed about them. If you can break their front four, five players, there's some space, and the goals they give up, their poor back four gets left with a lot of space and room to defend."
Overall, the team seems to be excited to get the chance to play new opponents, and if the Huskies win Thursday night, they will travel across the country to play Central Florida.
"The thing I really like is I really like playing new teams in the NCAA Tournament," Clark said. "I thought we'd get matched up with Air Force or Portland, and that would be fine, but those are teams we get matched up with every year. But just getting new faces, hopefully going to new places, to me that's the NCAA Tournament and that's what makes it special."
Reach reporter Chris Angkico at sports@dailyuw.com. Twitter: @chrisangkico
Like what you're reading? Support high-quality student journalism by donating here.