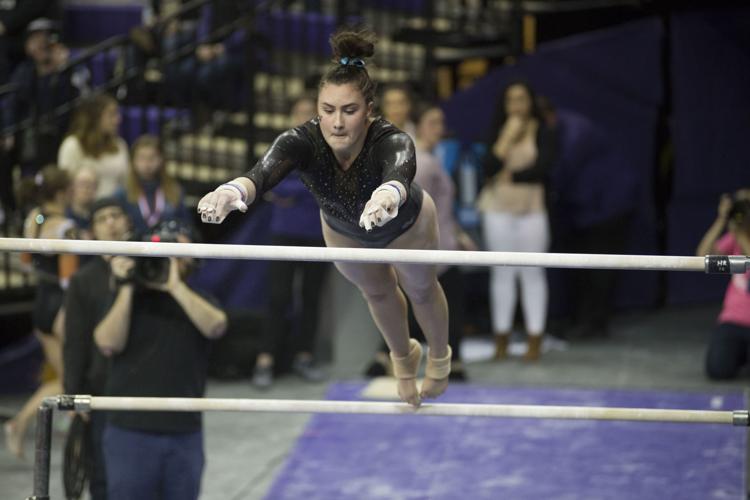 The No. 14 Washington gymnastics team kicked off the season in a similar fashion to the past two under head coach Elise Ray-Statz with a 195.250. The Huskies scored 48.825s on bars, beam, and vault, a 48.775 on floor breaking the trend. A roster with a large number of underclassmen meant that three Huskies made their college debuts in Nebraska.
Sophomore Geneva Thompson impressed on the vault in her first competition as a Husky, her score of 9.800 leading Washington and tying for second place in the meet. Senior Monica Riley and junior Evanni Roberson came just behind for a fourth place tie with 9.775s.
Junior Madison Copiak anchored the team on bars, scoring a 9.875 to place second. She was the only UW gymnast to score over a 9.800 on the apparatus. Both she and freshman Brenna Brooks stuck their bars dismounts, Brooks scoring a 9.750 to place fifth.
Brooks was one of two freshmen to make an appearance for the Huskies, and competed on three events. Amara Cunningham, Washington's other freshman making her NCAA gymnastics debut, competed on both floor and vault.
On floor, senior Kristyn Hoffa scored a 9.850 to lead the Huskies and place second. Juniors Maya Washington and Roberson both scored 9.800s for a fourth-place tie.
On beam, it was another second place finish for the Huskies, as Maya Washington led the team with a 9.825. Roberson was close behind with a 9.800.
Roberson made an expected appearance as one of Washington's two all-around competitors, after competing all-around for the Huskies most of last year. She came in second place with a score of 39.100. Riley made her first floor appearance for the Huskies and competed on beam for the first time since her sophomore year to hold the UW's second all-around spot.
Reach Social Media Editor Hailey Robinson at sports@dailyuw.com. Twitter: @haileyarobin
Like what you're reading? Support high-quality student journalism by donating here.