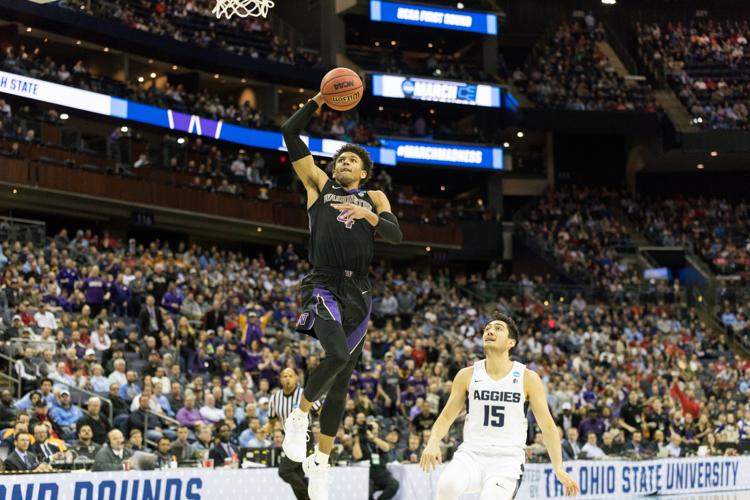 The Washington men's basketball team made a triumphant return to the NCAA Tournament in a 78-61 win against Utah State, outplaying the Aggies in multiple facets of the game. The UW suffocated USU on defense and executed on offense, punching its ticket to the Round of 32 in the process.
The Turning Point
After Utah State pulled to within one with 9:54 to go, sophomore Nahziah Carter proved instrumental in stifling USU's momentum and putting Washington back in the driver's seat. Carter started with a three from the wing to bring the UW's lead back up to four, then on the ensuing defensive possession he came up with a steal.
About 30 seconds later, he made another three, and then added a free throw shortly after on the next possession to put the Huskies up eight, giving them a lead they would grow to double digits a couple minutes later.
UW Player of the game
Against a Utah State team with a 6'11" center, the 6'8" Noah Dickerson was a bully inside and the key to Washington's victory. He recorded a double-double with 20 points and 12 rebounds, and came up with a block, two steals, and a few emphatic dunks.  
Dickerson was instrumental on both sides of the floor. He used his brute strength to muscle Mountain West Defensive Player of the Year Neemias Queta out of the way for easy baskets, played disciplined defense on the other end without fouling, and took a charge with five minutes left.
One key stat
Turnovers, turnovers, turnovers. Washington forced 21 of them against Utah State, a team that only averaged 12.5 turnovers a game during the season. The Huskies did a great job of making the Aggies feel unsettled on offense, particularly in the first half, and the Dawgs scored 26 points off of those takeaways.
Where does Washington go from here?
The Round of 32. With its win over Utah State, the UW moves on in the Midwest Region and extends its stay in its first NCAA Tournament in eight years. The Huskies will play again on Sunday, either facing off against No. 16 seed Iona, or No. 1 seed North Carolina, which would be a rematch of their last tournament loss back in 2011.
Reach reporter Chris Angkico at sports@dailyuw.com. Twitter: @chrisangkico
Like what you're reading? Support high-quality student journalism by donating here.