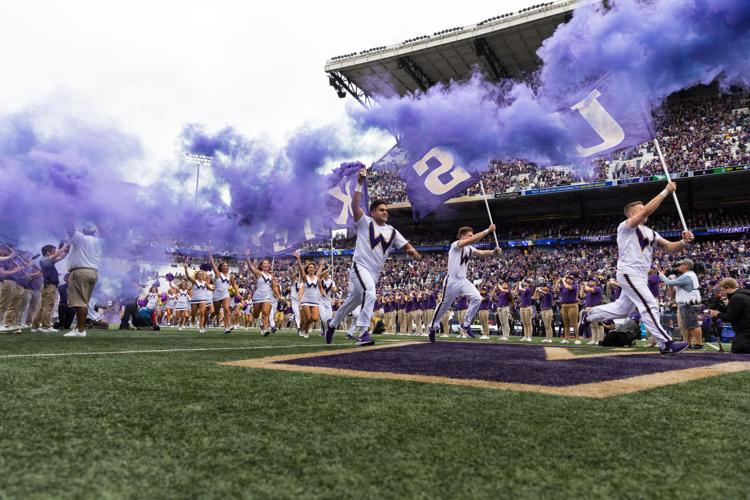 Tuesday evening, members of the UW football beat got to go down to the ASUW Shellhouse, where the "PartnerShip," an actual floating vessel complete with a container holding the new football uniforms, was docked.
As the container doors swung open, a smoke machine fired and Jimi Hendrix' "Purple Haze" blared over a loudspeaker. It was the full-on running-out-of-the-tunnel-on-gameday experience, and we got to be the first to set eyes upon these new unifor- 
Yep, they were the same as in that leaked photo.
Honestly, it's not surprising photos were leaked. If anything, it made me more impressed that the program managed to keep chrome purple helmets hushed up even during warm-ups against Cal in 2017. 
But even if it wasn't kept as secret as it could have been, Adidas' first crack at UW uniforms should be ones that fans are pretty happy with.
Washington partnered up with Adidas late enough to not have to worry about its infamous more-than-subliminal pattern, and these jerseys are kept pretty simple. The purple is deeper, tying back to looks from the 1990s. The shoulders are simpler than the last Nike iteration, with a normal purple strip sandwiched between two "iridescent" ones. 
The most obvious change to the jerseys is in the numbers, where the curves of Nike have been replaced by straight lines, with every outside corner going off at 15 degrees — the same angle as the ones in the UW logo. In the leaked photo, it looked like the numbers on the white away jerseys were thinner. Looking closer, they're actually the same size as on the home jerseys, just outlined in white instead of a contrasting color. That change came at Chris Petersen's request, after he studied the away uniforms from the Don James era.
As far as the pants go, the home pants are apparently as close as you can get to the Huskies' gold helmets with fabric. 
Most importantly to many of the most vocal critics of the Nike uniforms, there's no black at all.
There won't be any other new designs this year, but starting in 2020, the program will unveil one or two alternates — either throwbacks or some other themed look. 
The PartnerShip will be open to the viewing public on July 10. Other fall sports uniforms will be unveiled throughout August.
Reach Sports Editor Josh Kirshenbaum at sports@dailyuw.com. Twitter: @J_Kirshenbaum.
Like what you're reading? Support high-quality student journalism by donating here.