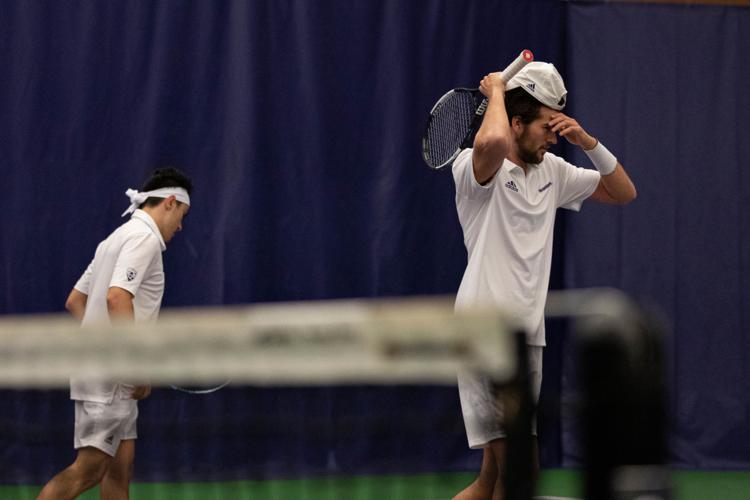 The Washington men's tennis team held every single point close Friday night against No. 17 Michigan, but couldn't pull any out in a 7-0 loss.
"I'd like to start again, that's for sure," head coach Matt Anger said after the match. "I know we're better now then we were four hours ago before we started. They were tough up and down the line."
In doubles, two of the three matches ended within two points. In singles, the Huskies kept all but five sets within two. But the Dawgs couldn't get on the scoreboard, only taking winning one solitary set, and when 
Michigan's top doubles pair of Andrew Fenty and Mattias Siimar, ranked No. 5 in the country, jumped out to an early lead, and despite a late rally by Jack Davis and Ewen Lumsden, took their set 6-4. Meanwhile, Alexis Alvarez and Adam Torocsik fell 6-2. 
Jack Pulliam and Kailuhia were in a close match, trailing 6-5 when the other two wrapped up.
With the exception of sophomore Kasper Smith, who lost his match 6-2, 6-1 on Court 6, all of the Huskies found themselves in close first sets. Four matches had to go to a seventh point, but senior Liam Puttergill, on Court 3, was the only UW player to pull out a win. Junior Jack Davis fell 7-6 in a tiebreaker, and the other Thibault Cancel and Jack Pulliam both lost 7-5.
Come the second sets, it continued to be close, but it also continued to all go Michigan's way, and when Davis dropped his match 7-6, 6-4 to No. 94 Ondrej Styler, it gave the Wolverines a decisive 4-0 lead.
Just moments later, No. 78 Fenty put the finishing touches on a 6-4, 6-4 win over sophomore Ewen Lumdsen, who was making just his second appearance as the Huskies' top singles player.
"Ewen, I love the way he's battling," Anger said. "I think he had some chances, dropped serve a couple of times in the first set. He was able to break back, but it would have been nice if he was holding serve a little bit more. I thought he and Jack there at the top, 1 and 2, they stayed tough the whole time, playing good opponents. Their guys were just a little bit better, and that's what we've got to get to."
From there, the only question was whether Michigan would get its clean sweep, and when Johnston came all the way back about a half hour later to beat Puttergill 5-7, 6-3, 6-4, the Wolverines took home all seven points.
Washington will get two days to rest up before a Monday home matchup against UC Santa Barbara at noon.
"Sure, I want more," Anger said. "Our guys were also playing hard. The best way for me to learn is when they are playing hard. Our guys play hard, we learn, we're going to be on it in practice, and be back at it again on Monday."
Reach Managing Editor Josh Kirshenbaum at sports@dailyuw.com. Twitter: @J_Kirshenbaum