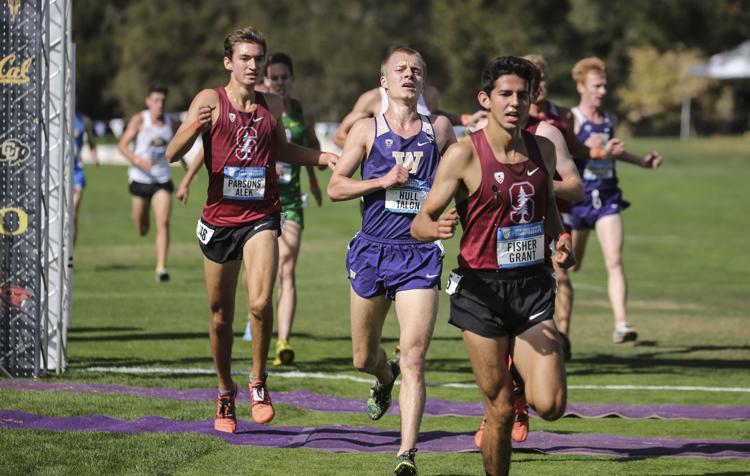 With about 150 meters to go in the final stretch, Talon Hull started his kick. Battling with reigning Pac-12 champion Grant Fisher of Stanford, the UW sophomore grabbed the lead with the finish line in sight.
It didn't last long though. About 90 meters from the end, Fisher kicked into his top gear, and Hull couldn't keep up, giving the Stanford runner his second consecutive Pac-12 individual title.
Hull's runner-up finish in 23:10.2 was still impressive though, and he helped lead the Washington men's cross-country team to a second-place team finish at the Pac-12 Championships. The women's team placed fourth behind another strong performance from junior Katie Rainsberger.     
Behind Hull, senior Tanner Anderson finished in ninth with a time of 23:12.4, just 3.4 seconds off Fisher in first. Sophomore Tibebu Proctor ended up in 14th after getting stuck in the pack early in the race and crossed the line in 23:22.2. This is the third straight race where Hull, Anderson, and Proctor have all finished in the top-15. The men's scoring positions were rounded out by junior Andy Snyder in 17th and senior Fred Huxham in 20th.
The UW men finished the race with 62 points, coming in second to Stanford with 44 points, and ahead of No. 8 Colorado (82 points) and No. 11 Oregon (93 points). Washington placed eight runners in the top-30. The second-place finish is the team's highest at the Pac-12 Championships since 1994.
On the women's side, Rainsberger again led the team with her 11th place finish in 20:04.2. Sophomore Allie Schadler was the Huskies' second runner coming in at 20.36.3, good for 23rd place while senior Emily Hamlin came in at 29th. Junior Lilli Burdon, making her Washington debut after transferring from Oregon, finished in 31st, one spot in front of freshman Olivia O'Keeffe who wrapped up the scoring for the Huskies.
The Washington women finished fourth overall with 123 points. No. 4 Oregon collected the team title with 32 points, on the back of senior Jessica Hull's runner-up finish. The Ducks placed four runners in the top-10 and all seven in the top-20. No. 1 Colorado ended up in second with 48 points and No. 6 Stanford placed third. Colorado senior Dani Jones retained her Pac-12 individual title.   
Washington's next race will be at the NCAA West Regionals in Sacramento, Calif. on Nov. 9, where the Huskies will compete for a place in the NCAA Championships in Madison, Wis. on Nov. 17.   
Reach reporter Andy Yamashita at sports@dailyuw.com. Twitter: @ANYamashita