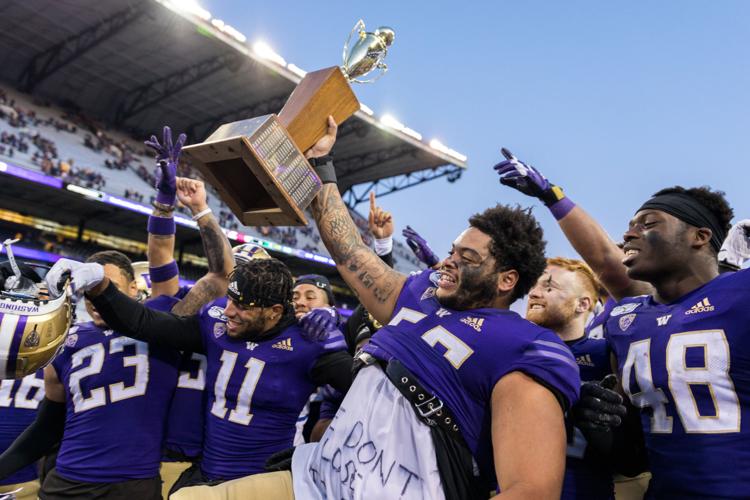 Posing for photos with an undershirt that read, "We don't lose to Cougs," senior Nick Harris proudly gloated his way to the Apple Cup trophy, and then to the locker room with the writing clearly visible.  
It might as well have been written in stone, as the Washington football team thumped its rival Washington State for the seventh straight year, 31-13.
"I wore it this morning, I wore it in the game, and I'm wearing it now," Harris said. "I'll probably wash it because it's pretty sweaty, but if I could, I'd wear it all night."
No stranger to winning Apple Cups, the Friday night win against the Cougars (6-6, 3-6 Pac-12) ensures that another Washington senior class graduates without a loss to its cross-state rival. 
And after a somewhat disappointing season, including three losses in their last four contests, the Huskies (7-5, 4-5 Pac-12) were victorious again. 
"That's an experience I'll never forget," junior quarterback Jacob Eason said. "Being from Washington, first time playing this game, it was a great feeling. Something I won't forget."
It didn't get off to the best start, with the Cougars marching down the field easily in the opening moments to score the game's first touchdown. It was WSU's first touchdown scored in the first quarter since its overtime victory over UW in 2012, its last Apple Cup victory. 
But the Huskies responded with a 31-6 run over the course of the rest of the game to win in dominant fashion once again. But it wasn't how they won previous games against Washington State. 
After rushing for well over 150 yards in each of the last five Apple Cups under Chris Petersen, including over 550 yards in the last two combined, the Huskies let Eason get his rhythm back against a subpar Cougar secondary. 
With the run game stymied for much of the game against loaded fronts, Petersen turned to Eason to make throws down field, and for the first time in weeks, he did. 
"That's the only way to operate if you run that style," Petersen said of UW's run-oriented offense. "You're going to have to hit some big plays down the field."
The junior ended his first Apple Cup with 244 yards through the air with a touchdown, and most importantly, no turnovers. Specifically targeting his tight ends, who combined for nine catches for 142 yards, Eason managed to put in his best performance in the back half of the season. 
His counterpart, Anthony Gordon, didn't fare nearly as well. 
A nearly flawless first drive for Gordon quickly went downhill, as the Cougar quarterback managed to complete 48 of his 62 throws for 308 yards, but with two backbreaking interceptions.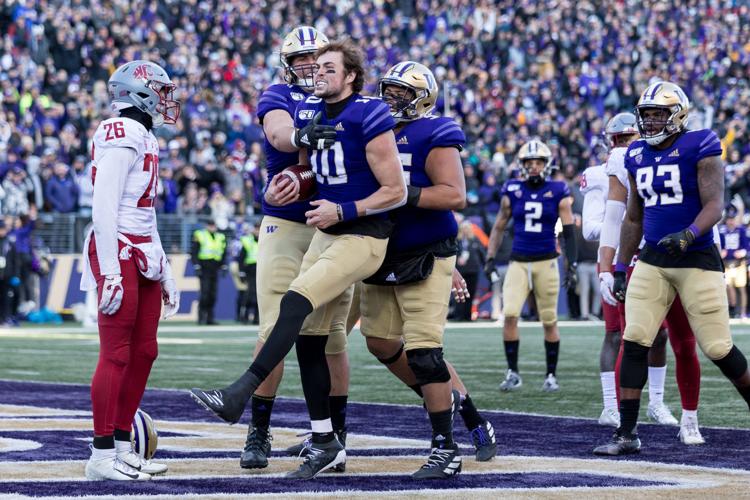 As UW alum Budda Baker posted on Twitter that he knew, "every play Wsu running from my years at UW" to this day, defensive coordinator Jimmy Lake hasn't lost his touch against Mike Leach and the Cougs. 
"They haven't switched up their plays so we keep doing the same stuff," junior nickelback Elijah Molden said. 
Petersen and several players reiterated that Leach hasn't changed his system at all despite past failures against the Huskies, so the Huskies didn't change anything either. 
"That's a credit to Coach Lake," senior Myles Bryant said. "He prepares us, he outlines the plays for us. They have a pretty simple system. Coach Lake has been able to figure it out. As long as Coach Lake is here, they'll be in good hands."
While Harris practically guaranteed the Huskies would win the night before when he wrote on his undershirt that, "We don't lose to Cougs," a win in the Apple Cup and on Senior Day was exactly what the doctor ordered for a frustrated UW team. 
"There's been a lot of ups and downs," Bryant said. "Especially it being Senior Night, you have a lot of seniors who have been here a lot, who've seen a lot… it's just a special feeling for all of us."
Reach Sports Editor Alec Dietz at sports@dailyuw.com. Twitter: @AlecDietz
Like what you're reading? Support high-quality student journalism by donating here.