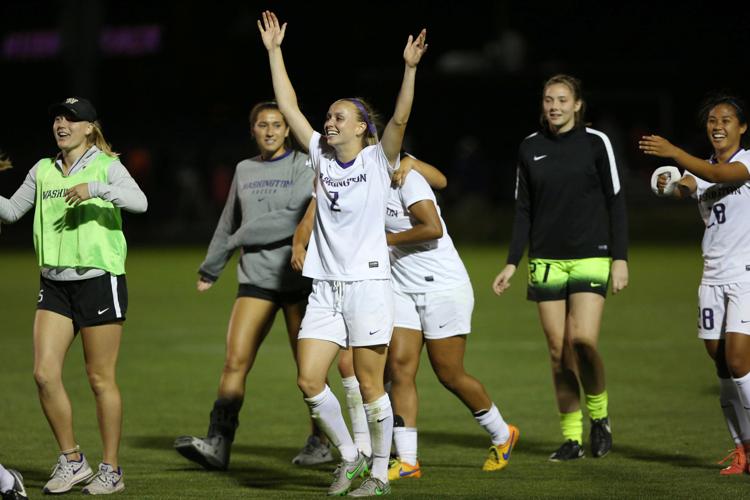 The Washington women's soccer team has a new captain leading the young Dawgs into battle.
Just five games into the season, the UW carries a 2-2-1 record, showcasing a stubborn defense against all of its opponents. New captain Taylor Sekyra, as a center-back defender is in the middle of the backline.
"I'm in a position where I do see the whole field, and I can organize in front of me," Sekyra said. "Also as a leader, I think another part of my job is to make sure we have energy, make sure we're focused, to make sure we're all on the same page."
The junior stands out on the field as a vocal leader; it's difficult to miss her calling out instructions to help the backline get in position to stop the opposition. The captain's been successful in leading the team so far, letting in only five goals on the season, and holding opposing teams under 10 shots per game.
Head coach Lesle Gallimore has been impressed with the defender's communication and leadership early this season.
"I think her leadership has been good," Gallimore said. "I still think there's some things that, not from a leadership standpoint, but just our backline in general and the vocalness of our team. Taylor can't be expected to be the only voice on our team."
This year's team only has three seniors, five fewer than last year. Juniors aren't normally made captains, but Sekyra did not shy away from this opportunity when the 25 year head coach came to her before the season.
"I feel like for me it was a great honor, and I really feel like I have, in some ways, earned this role" Sekyra said.
After a redshirt freshman year in which Sekyra played almost every game, she logged 1,855 minutes in her sophomore season, all but 19 minutes the Huskies played in 2017.
"I feel like I'm really excited to try do everything I can to put my team first, and exemplify what it's like to be a Husky on this team, and what that means day-in and day-out," Sekyra said.
Sekyra is taking her efforts to more places than just the soccer field as, leading team activities to help build a strong, supportive culture within the program.
"Our team gets along so well, and the team chemistry is great," Sekyra said. "Our culture on our team is something that's special, that I don't think you see out of a lot of teams, where everyone likes each other and everyone gets along."
The transition hasn't come without growing pains, as Sekyra has had some difficulties adjusting to her new role. With a smaller upper class, and 11 new freshman joining coming into the fold, the junior states how bringing the team together has been one of her goals early this season.
"The thing is really connecting with everyone and making sure that everyone's taken care of," Sekyra said.
The rest of the season presents an opportunity for the defender to improve in her role, helping her team on and off the field.
"I think my role right now is to be really consistent, and do the things that my team needs me to do and execute my job, and then to really keep doing a good job of organizing others and getting our team together," Sekyra said.
Taylor Sekyra and the rest of the Washington women's soccer team heads south for the Portland Invitational this weekend. The team faces off against UC Irvine Friday at 4:30 p.m., then meets Utah Valley Sunday at 11:00 p.m.
Reach contributing writer Josh Eddy at sports@dailyuw.com Twitter: @JoshTreEddy