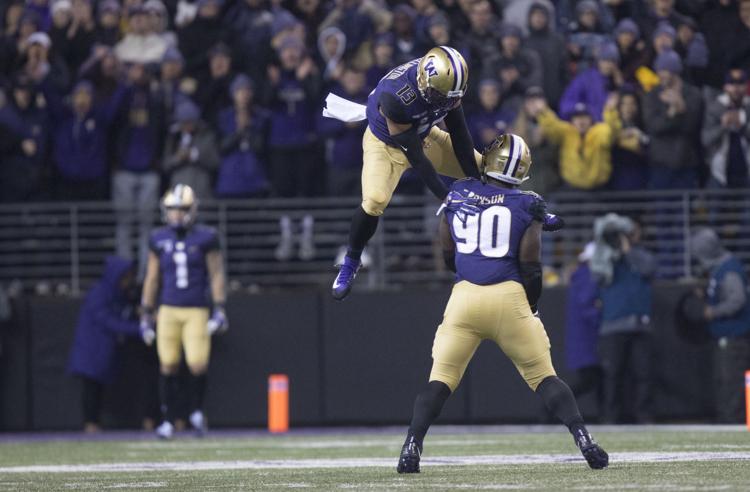 More than often than not, injuries can happen in freakish ways, without contact. That was the case for senior linebacker Brandon Wellington, who suffered an ACL and meniscus injury in his left knee running downfield to cover a punt two years ago in the 2017 Apple Cup.
For most of the following summer and early in the fall, it didn't look like Wellington would play and he even considered a redshirt year.
"I didn't think I was going to be able to come back and play," Wellington said. "But going through rehab, growing through a mindset of fighting everyday, it was just special to get back out there and fight with my brothers."
After missing just four games, Wellington came back and played in nine games as a junior, finishing with 28 total tackles in mostly a reserve role behind Ben Burr-Kirven and Tevis Bartlett.
This season, it's been Wellington's spot with the first-teamers, along with fellow senior Kyler Manu. For Wellington, the injury and the rehab and process it took to get back helped him prepare for this moment, where he'll most certainly start Game 1 barring an injury.
"For me it was on my own," Wellington said. "I needed to do that on my own to grow mentally, spiritually, and physically. At the end of the day, I'm laying in my bed and it's just me. If I can't do it by myself and I'm relying on somebody then I shouldn't be able to do it."
After losing both senior starters last year, the linebacker unit has been pegged as one of the weaker units in the new-look Washington defense. Both of Washington's leading tacklers in the middle are gone, and between Wellington and Manu, there aren't many combined starts.
"I feel like a lot of people are concerned," Wellington said. "I'm happy with it. I trust in our players, we've been at the chalkboard and film room and doing everything. It's going to be exciting. People are going to be surprised by how we're going to play."
Despite the lack of trust from the outside, the senior feels like the unit is well-prepared to replace Burr-Kirven and Bartlett, and is using some of the doubt to fuel and kickstart a successful upcoming campaign.
"You hear doubt, you want to prove them wrong," Wellington said. "But also trying to flip it, and proving everyone right that's been with you all the way, and making sure you make them look good and make yourself look good."
Injuries and non-participants
- Players who either did not participate or were limited in practice on Monday: Jamyn Patu, Ty Jones, Troy Fautanu, Jacob Bandes, Sama Paama, Quinten Pounds, Miki Ah You, Aaron Fuller, Fatu Sua-Godinet, Matteo Mele.
Other Notes
- Sophomore quarterback Jake Haener took most of the first-team reps today, finishing 6-of-13 on the day during 11-on-11 periods with no turnovers. Junior Jacob Eason, taking most of the second-team reps, finished 13-of-19 and had a nice over the shoulder throw to senior Andre Baccellia for a 40-yard gain.
- The defense had a good day getting to the quarterback again, coming away with six sacks (by my count). Redshirt freshman Edefuan Ulofoshio had two sacks in what was a really impressive day for the linebacker. Ulofoshio represents an intriguing option for a defense that needs the inside linebacker depth.
- Early enrollee Cameron Williams continues to impress in the defensive backfield, getting reps with the first-team defense at the safety position, and coming up with a nice pass breakup during 11-on-11 period on a throw from Eason to Terrell Bynum.
- Elijah Molden got most of his reps at outside corner today opposite Keith Taylor with the first-team. Myles Bryant was back in the nickel, with Brandon McKinney and Williams at safety. Isaiah Gilchrist rotated with Williams at the safety spot.
- Ariel Ngata took reps at both outside and inside linebacker today, despite being listed as an outside linebacker on the roster.
Reach Sports Editor Alec Dietz at sports@dailyuw.com. Twitter: @AlecDietz
Like what you're reading? Support high-quality student journalism by donating here.