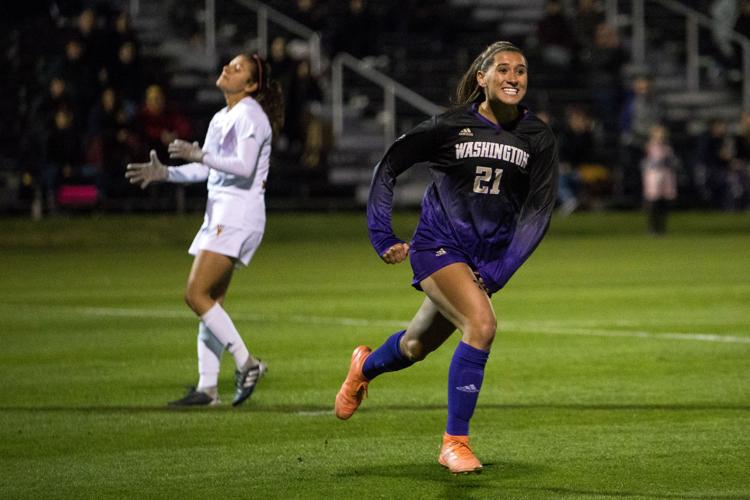 The Washington women's soccer team returned home to win 1-0 over Arizona State with Olivia Van der Jagt's first goal of the season.
It did not take long for the Huskies (7-3-2, 3-1 Pac-12) to move past its first loss in three weeks, they found the back of the net just four minutes into the match. Lisa Jensen pushed the ball up the left sideline to a streaking Isabella Castro who crossed into the box to find Van der Jagt who smashed it into the ASU (6-5-2, 0-3-1 Pac-12) net.
"I think getting a goal up early on a team affects their mindset first and foremost, they are put under pressure really, really quick," co-captain Taylor Sekyra said.
The junior was the team's leading goal and point scorer last season, and didn't have any points through the first nine games. She has since put up three points for the Huskies.
"Last year I started the season off really strong offensively and this year has gone through a little dip but the last couple games and practices I feel like I've gained momentum back, which is really nice," Van der Jagt said.
The UW defense held 26 minutes before allowing a shot, but Ruelas was able to make a diving save for her first of four on the night.
"[Ruelas] was really clutch when we needed her, I mean, came up with a great save, she really kept us in the game," Sekyra said. "It was 1-0 so anything that happens puts them right up with us at 1-1, so she was really, really sharp, and really, really, on it."
The Dawgs got up six goals before that moment in their aggressive start, they piled up 12 shots in the first half to Sun Devils' three. The second half mirrored the first and the Huskies outshot the Sun Devils 24-6 on the game.
"I think we had chances to score more, to be honest," head coach Lesle Gallimore said. "The PK, it's unfortunate, the keeper made a good play on it, there was a couple balls that got played across the box, there were a few scrambles on corners, so we didn't give ourselves that cushion, so the game never felt comfortable."
Arizona State committed foul late in the second half in their own box, giving Washington a penalty kick. Summer Yates took the kick and fired it low and right, which was saved by ASU keeper Giulia Cascapera. UW is now 0-2 on penalty kicks this season.
The Huskies secured their fourth shutout win tonight, and while the UW has dropped three games this season, they have yet to lose back-to-back games.
"I just think that's a little bit in the mindset and we're just a different team this year," Sekyra said. "I think that we're really committed to each other and honestly the defense doesn't start in the back, it starts up top, and when we commit to doing the things we talk about, like pressuring teams inside and lock them up high early, it makes a big difference."
Washington will have a couple days off before hosting No. 25 Arizona on Sunday at Noon, this will be UW's fifth ranked opponent this season.
Reach reporter Josh Eddy at sports@dailyuw.com. Twitter: @JoshTreEddy
Like what you're reading? Support high-quality student journalism by donating here.