By now, A.J. Carty is used to being in front of the spotlight. Not under it — in front of it.
The action is almost always behind Washington's redshirt senior long snapper, either 15 yards (on punts) or 7.5 (on field goals and extra points). But Carty has steadily — and quietly — become one of the UW's most consistent players, starting a team-high 39 consecutive games dating back to the end of the 2016 season.
And much to his credit, he's more or less done so without drawing any attention to himself; that's the best-case scenario for most long snappers.
"He's as good as we've ever had," special teams coordinator Bob Gregory said.
Well, there was one time he drew some attention years ago as a true freshman. Working on the scout punt unit — tasked with giving the punt return a side to play against — Carty found himself over the ball, with then-junior outside linebacker JoJo Mathis lined up right across from him.
Mathis' lone job, as Carty described it, was "beating up the long snapper."
"My first rep, I snapped it, and I remember he just picked me up and threw me," Carty said. "I went flying to the ground and I was like, 'Wow, this is different.' That was the moment of, 'Oh well, things have to change.' That was one rep, and then it was seeing if we could minimize those events happening the rest of the season."
___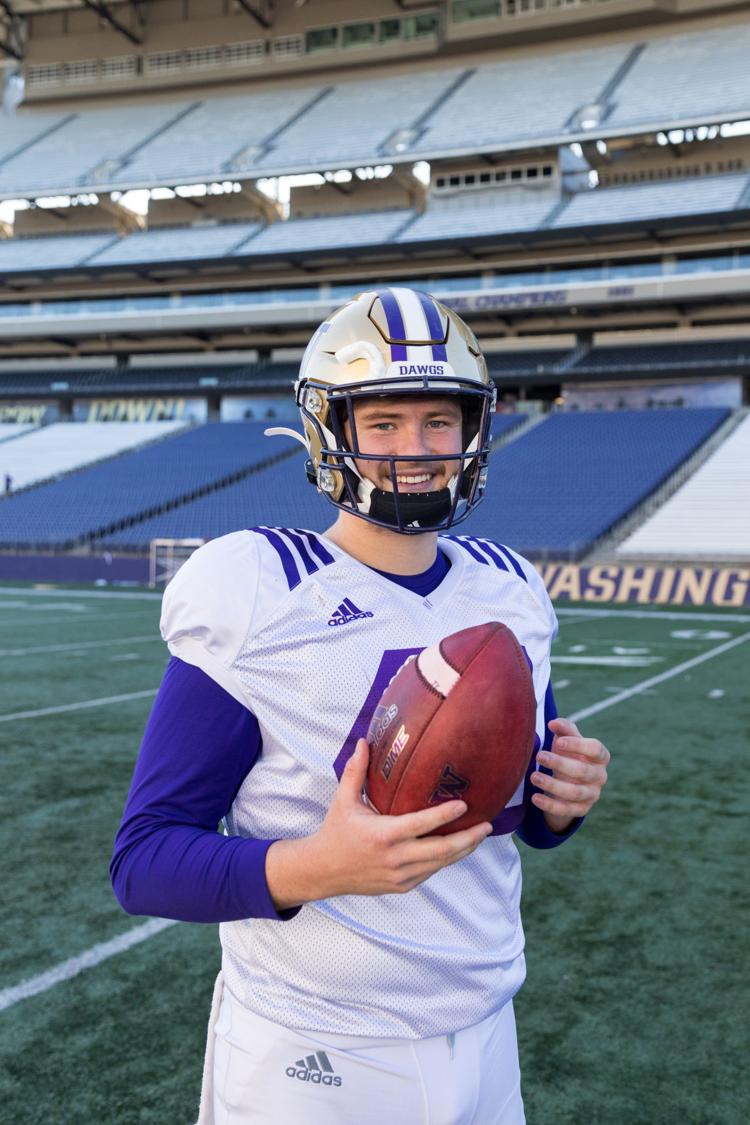 Here's the thing about long snappers: Every team, no matter what age, no matter what level, needs someone to do at least a mediocre job. On fourth down, the punter needs to stand deep in the backfield, and somebody, some way, has to get him the ball in the air. 
"I would say 99% of high school coaches, their quote to the long snapper would be, 'Just get it back there,'" Chris Rubio who runs Rubio Long Snapping, a program specializing in training youth and high school long snappers, said.
Carty began snapping before high school, but the rest of his story checks out. Playing Pop Warner in Southern California, he joined the list of youth football players pressed into long snapping by necessity, just trying to get the ball back there.
"Our team didn't have anyone who could long snap, and I was the center, so they kind of made me do it," Carty said. "Probably the worst snaps of all time."
As rough as he may have been to start, Carty stuck at snapping. At his very first practice his freshman year at Servite High School in Anaheim, California, the coaches looked for specialists by making every single newcomer try kicking, punting, and long snapping. 
By then, Carty had already started to carve out a niche for himself. He got the long snapping job, and he didn't let go.
Between his freshman and sophomore seasons, Carty attended his first Rubio Long Snapping camp and really started to refine his game past "just get it back there." Soon, according to A.J. Gass, then the coach at Servite, Carty was going about his business "like a professional." He was focusing on fundamentals, placement, and velocity, and making the step to get the ball to the punter or holder an afterthought.
"Just knowing that your snaps were going to be on time, your operation time was going to be quick ... it was a blessing and a joy to have a guy like that handling his duties for us," Gass said.
For the rest of his high school career, Carty bounced back and forth between playing for Servite and training at Rubio's camps. But with Servite's coaching staff like most high schools' in America — that is, with nobody with any snapping experience — Gass wasn't going to get territorial with his player.
"He did a lot of stuff on his own," Gass said. "But we didn't get in the way of what they were teaching him. That would have been foolish of me."
As Rubio says, getting into long snapping is a solid assurance of being the last player recruited. Carty said he didn't even think about playing in college until his junior year of high school, when he saw fellow snappers in his camps get attention.
So, later than most skill position recruits, he went to his parents with the idea of playing football at the next level.
"They were definitely super, super supportive of it, they were all about it," Carty said. "My dad loved it. It's pretty obvious that I'm not a D-I athlete in another position. My dad was pretty realistic, and he knew that if I could get better at it, I could have a shot."
Carty committed to the UW in June of 2014, before he'd even taken an official visit. The only thing that could get in the way of playing collegiately would be something like an injury. The good news for him was that long snapping is a comparatively less dangerous position than, say, offensive line.
"His senior year we went to him and we said, 'Hey, we need you to do more for us,'" Gass said.
Soon, Carty was also snapping on offense for Servite, playing both long snapper and center. And sure enough, midway through the season he was working with torn ligaments in his left thumb and middle finger.
"It was pretty difficult doing both center and snapping with that," Carty said. "I had these weird things on my hand that I would take off to snap … It hurt but it was fine."
By the end of his senior year, Carty was ranked the No. 3 long snapper in the nation in Rubio's annual rankings and the best one west of Ohio.
"If you've got a guy you know is going to be really good, you'll certainly give him a scholarship," Gregory said. "He's turned into one of those guys."
___
After redshirting his true freshman year — that of the Mathis episode — Carty saw his first action on three extra points in garbage time. Starting midway through the Huskies' loss to USC, he took over as the primary snapper on punts. Beginning his sophomore season, Carty has handled all snapping responsibilities.
As a Husky, Carty has snapped for 141 extra points, 59 field goals, and 140 punts. And over the course of those five years, not a whole lot has stayed the same, except the result.
"My snap has completely changed since high school," Carty said. "In high school, my butt was below my knees, my back was completely straight up, and I held my follow-through until the ball hit the punter's hands. Now my knees are a little bit bent, my head's between my legs, and the minute I snap the ball, my head's already up so I can block."
Just like in high school, Washington's staff doesn't have a coach with long snapping experience. So while Carty works with Gregory and Jeff Crosby, UW's quality control coach for special teams, on a daily basis, much of the individual and fundamental critique falls on his own shoulders.
And 340 snaps into his collegiate career, Carty has fine-tuned standards for himself.
"For me, a good game is absolute perfection," he said.
But while most fans' perception of perfection would mirror that hypothetical high school coach — after all, Carty has gotten the ball back there successfully each time — he's looking for more.
On punts, that means not only getting the ball to Joel Whitford fast enough that he has enough time to get a kick off, but putting the ball low enough that he doesn't have to turn his hands over to catch it, and then getting out of his wide stance fast enough to either block a rusher or get down the field to help out in coverage.
And on field goals, it's not just putting the ball on Race Porter to get a hold down. At this point, Carty's focus is consistently making it so after spinning 7.5 yards in the air, Porter will catch the ball with the laces directly up, so he doesn't have to turn it at all as he puts it down.
At this point, he doesn't even really need to talk to Porter afterward to know whether a snap was up to his standards.
"I've done it so many times, I can feel it," Carty said. "I know the difference between a snap when laces are out, when they're back, and when they're on the side."
He does watch plenty of film, though, and talk consistently with Whitford and Porter. Then on Sunday, any necessary adjustments are made for the next game.
"He was one of the rare, rare long snappers that was extremely intelligent but didn't overthink the process," Rubio said. "There's a lot of long snappers that are super smart, but they tend to overthink, and that's the worst thing you could do as a snapper because you can't get into a rhythm as a snapper."
____
Now, Carty is entering the second half of his fifth and final year with the Huskies. 
"I'm definitely a very different person than I was when I came in," he said. "You've got to grow up and learn, and you've got to learn how to handle everything. Your plate's full of a lot of things. You've got to learn how to organize, how to destress, how to handle adversity when it comes."
Now 340 snaps into his career, the spotlight still hasn't quite hit him. But then again, that's how he knows he's doing his job.
Reach Managing Editor Josh Kirshenbaum at sports@dailyuw.com. Twitter: @J_Kirshenbaum
Like what you're reading? Support high-quality student journalism by donating here.