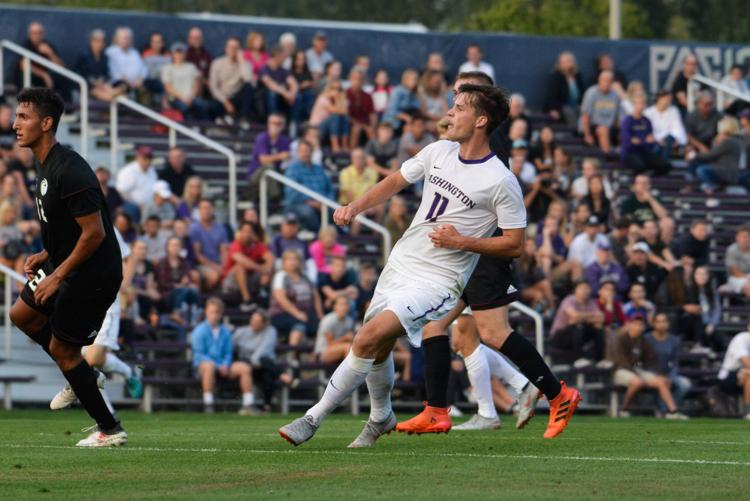 After a commanding exhibition performance a week ago, the No. 24 Washington men's soccer team is ready to get into official season action. The team will start 2018 with its home opener against Maryland, followed by a road matchup against familiar foe New Mexico.
In the Huskies' touch-up game against Seattle Pacific last Thursday, they shut out the Falcons 5-0, with redshirt senior forward Scott Menzies, the team's second-leading goal scorer last season, putting away two of them.
"That's like our best performance since I've been here in the first preseason game, so I think we're looking as well prepared as we possibly could be under the NCAA rules," Menzies said. "I think we learned that we're really well-prepared, and that also we can't take [this result] too seriously or don't get ahead of ourselves because we're facing a really good Maryland team on Friday, and that's going to be the real test."
Menzies scored seven goals last season while only starting five games. With those stats and his most recent performance, he could easily make a case to head coach Jamie Clark to be in the starting 11 more often, but that does not seem to be a huge concern for him at the moment.
"Hopefully [I start in more games], but if Jamie says he wants me to come off the bench, that's fine too," Menzies said. "It's worked in the past and I don't have any qualms about coming off the bench as long as I can help the team win some games."
For the majority of last season, Maryland boasted one of the top squads in the nation rising as high as No. 6 in the polls, but the Terrapins lost their last six games, all at home.
Having lost three of their top five goal scorers from a year ago, the Terrapins are now led by senior forward Sebastian Elney, who scored three of his five goals in game-winning fashion in 2017. Senior midfielder Amar Sejdic is another important piece, as he was one of three players on the team to start all 19 games, racking up three goals and five assists.
Redshirt junior Dayne St. Clair is a force to be reckoned with in goal. He made 57 saves in 19 starts last year, and posted nine shutouts.
Maryland played with possession often last season, attempting 14.6 shots per game while only allowing opposing teams to 8.2 shots per game. If Washington wants to win this matchup, it must play on the front foot and be aggressive in taking possession away from the Terps, and not allow the opposition to drain the energy of the back line.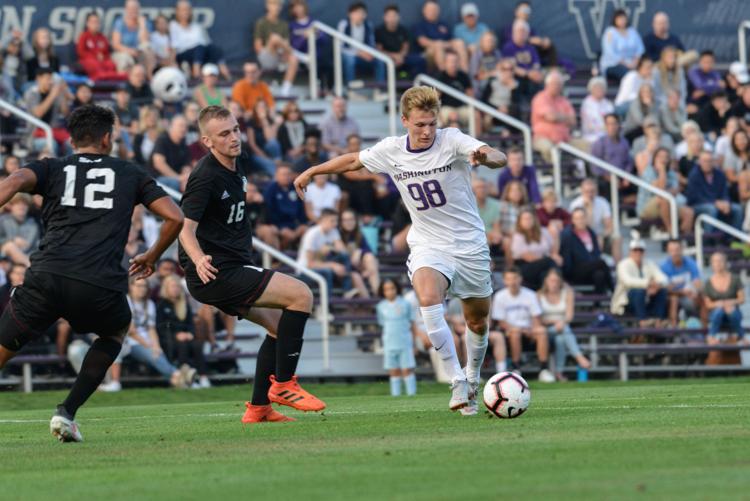 "If we play the way that we've trained and carry over our performance from Brazil and the game against SPU I think that we should stand a very good chance to get a good result against Maryland," Menzies said.
As for New Mexico, Washington opened last season with a 2-1 victory against the Lobos. UNM finished last season with an 8-6-4 record, also going winless over its last six games.
Spearheading the Lobos' starting 11 is redshirt junior defender Tom Smart. Hailing from Birmingham, England, Smart was recently named to the Conference USA Preseason Team after earning All-Conference USA Second Team a season ago. With the loss of their leading goal scorer from last year, Aaron Herrera, senior midfielder Antoine Vial will be counted on to do more offensively, as he scored four goals in 2017 while only starting seven games.   
The UW controlled most of last year's 2-1 win against UNM, pushing the entire team back by holding possession and creating chances in close. Attacking Smart and the Lobos' defense is of paramount importance if Menzies and the Huskies want to secure a win in this rematch.
The season opener against Maryland will start Friday at 8 p.m. at Husky Soccer Stadium on Pac-12 Networks. The road opener against New Mexico will be the following Monday at 6 p.m.
Reach reporter Chris Angkico at sports@dailyuw.com. Twitter: @chrisangkico