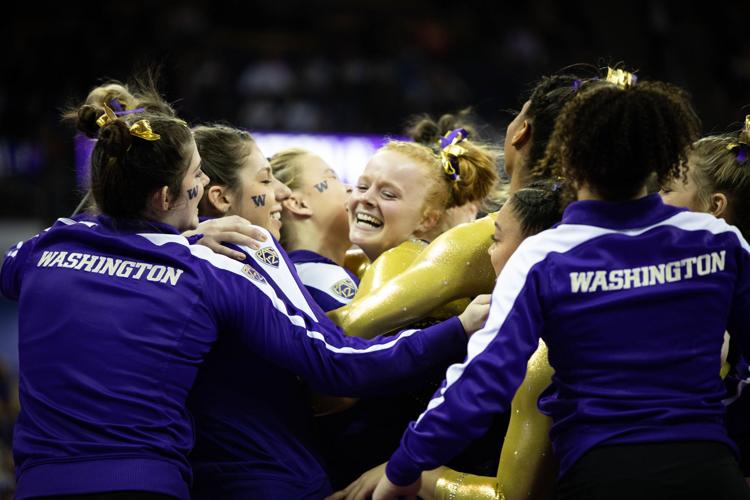 The No. 19 Washington gymnastics team put up its best floor score of the season, a 49.300, to cap off senior night at Alaska Airlines Arena. Senior Kristyn Hoffa and junior Maya Washington tied for the floor title with scores of 9.925, Hoffa tying a career high set two days ago and Washington setting her own.
Senior Monica Riley also tied a career high, a 9.850, set on Friday, and freshman Amara Cunningham set her own career high, a 9.875. The Huskies carried through the momentum on floor from a previous season-high team score set on Friday, thanks in large part to those career highs set by Washington's two senior floor competitors in that meet.  
"I thought, I'm going to do this for my teammates, I'm going to do this for the seniors because this is the last time down in Alaska Airlines Arena this year, and leave it all out on the floor," Washington said.
Washington's floor seniors finished out their final meets on Montlake strong. Hoffa flawlessly performed her newly added full-in for the second meet in a row.
"It's just so surreal to be able to do something I haven't been able to do since senior year of high school," Hoffa said. "To come out and do it, and do well in it is amazing."
After the meet, Hoffa, Riley, and fellow senior Malory Rose were honored with flowers and tribute videos.  
"They're going to be missed so much next year," Washington said. "Their work ethic, their tenacity to get better in the gym every single day, and how they perform on the competition floor will really be missed. Not only gymnastics-wise, but as people they're just fantastic and great to be around."
But Washington's seniors are looking ahead, not behind. There's still on regular season meet left, and regionals, super regionals, and possibly the National Championship after that.
"It's such a bittersweet night because you want to stay focused for the season but they're also aware that it's their last time in here," head coach Elise Ray-Statz said. "But a really special evening for them and a good crowd for them. It was a great afternoon."
Junior Michaela Nelson rejoined the floor lineup in the final home meet of the season after coming back from injury, and while she step out on her last past prevented a higher score, getting her back in the lineup will be crucial for the Huskies, currently missing junior Evanni Roberson.
Washington's team score was a 196.200, brought down from their performance in their last few competitions by struggles on beam. It was the only apparatus where a Washington gymnast didn't win the title, though junior Madison Copiak's 9.825 took second place. The Huskies finished with their lowest beam score of the season, a 48.800.
On vault, Copiak and sophomore Geneva Thompson tied for the title with 9.850s. Riley was just behind them with a 9.800. The Huskies slightly improved on their score from Friday, adding an extra .025 for a 49.025. They still only have five vault competitors in their lineup.
Maya Washington tied Southern Utah's Shylen Murakami with a 9.875 for the bars title. Copiak's 9.850 was close behind. The Huskies scored a team total of 49.075.
Reach Social Media Editor Hailey Robinson at sports@dailyuw.com. Twitter: @haileyarobin