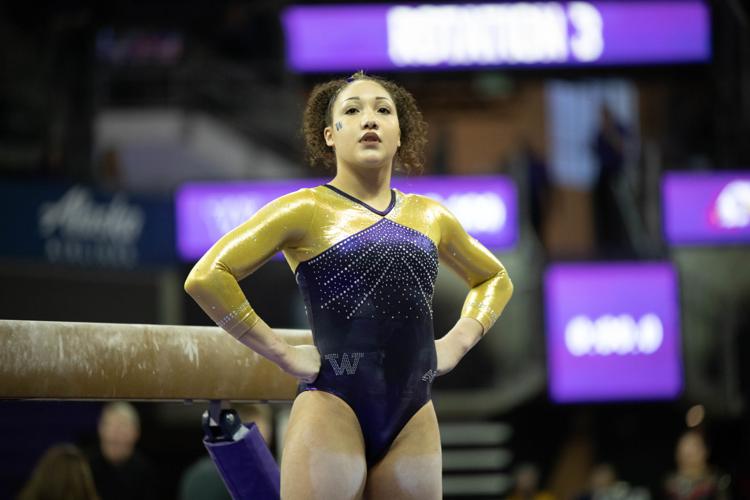 Last week, the No. 15-17 slots of the national gymnastics rankings went like this: Oregon State, California, Washington. This week, Oregon State moving up one and Washington moving down one has created a little more separation between the middle three teams in the Pac-12, at least in the standings.
The numbers, however, say something a little different. The three teams' average scores are all within a tenth of a point of each other, in the 196.2 range.
The Huskies are the underdogs in this situation, though, currently fifth in a stacked Pac-12 conference. Cal and Oregon State both scored higher than the Huskies when they competed against each other this season, and they both have the benefit of being in the evening session at the Pac-12 Championship.
The Pac-12 Championship is split into two sessions with four teams each. The noon session consists of Washington, Stanford, and the Arizona schools, the bottom four teams in the Pac-12. The evening session is designated for the top four teams.
It's more for clout than anything else, but the Huskies set out last week wanting to be in that session and didn't manage to overtake Cal in the standings despite a season-best performance, thanks to a Cal's own season high.  
"We're equally as good as OSU and Cal, so we just need to come to Pac-12s and show up and show that we deserve to be in the later session and that we're as good as the other top teams," junior Madison Copiak said.
In Elise Ray-Statz' tenure as head coach, the Huskies have always been in the top session. This season, with injuries interfering with settling on a solid lineup until this week, things have taken a little longer to fall into place.
This past weekend, though, a season-high 196.975 was just what the Huskies needed. While it wasn't enough to put them in the evening session, it gave them something much more important than clout: momentum.
"We're catching a little bit of a rhythm," Ray-Statz said. "I wish our rhythm had happened earlier, but I'll take it. We're just trying to improve from here, continue our trend and our trajectory up."
Washington's score at the Pac-12 Championship is critical for more reasons than just its place in one of the best conferences in gymnastics. The Huskies are currently sitting at No. 18 in the country, and want to be in the top 16 in order to get a regional seed.
The lineups are figured out — mostly, at least. Ray-Statz says the floor lineup is still variable, though it's likely it'll stay the same. With this season's biggest hurdle crossed, all the Huskies need to do is keep their momentum from last weekend.
"We're just going to go out there and show what we've been working so hard on all season," freshman Meaghan Ruttan said. "We have nothing to lose at this point."
Reach Social Media Editor Hailey Robinson at sports@dailyuw.com. Twitter: @haileyarobin