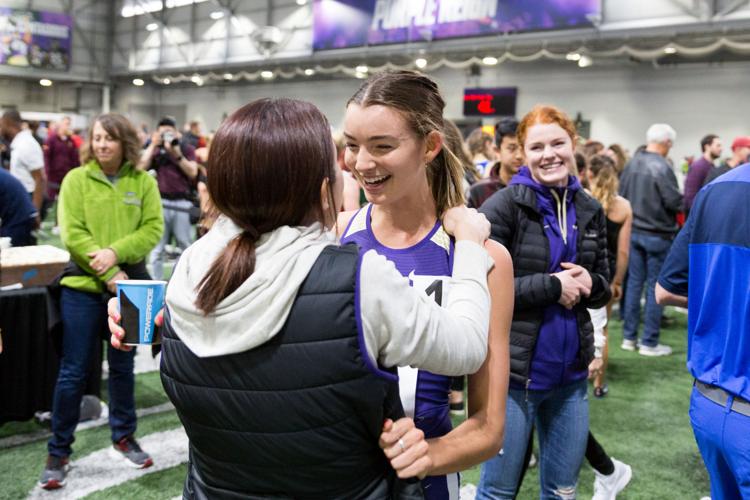 Things were looking bleak for senior Lilli Burdon. For an athlete that regularly made nationals at Oregon, Burdon's time of 4:42.16 in the mile and 16:11.67 in the 5000-meter run placed her in 49th and 45th in the nation, respectively. The MPSF Championships were her final chance of qualifying for nationals.
"There was a lot of pressure coming into this race because my goal is to qualify for the 3k nationals," Burdon said.
With everything on the line, Burdon ran a 9:03.32 in the 3000-meter run. Currently, the belief is she is on the bubble, and will finish either 16th or 17th nationally.
When times were tough, she focused on being optimistic.
"I just practice when it gets hard in workouts to have a really positive mindset," Burdon said. "It helps me through the Dempsey where you have so many people cheering you on. I remembered talking to Maurica [Powell] before the meet, and she really believed in me."
Success is nothing new to Burdon. The senior transfer from Oregon is a three time All-American in Cross Country and two-time first-team All-American for the indoor distance-medley relay team. When she was not performing up to her own expectations, she found positivity in other aspects to help her prepare for this event.
"I mean being able to perform under pressure has been one of my strengths," Burdon said. "You only have that one opportunity. I had two great weeks of workouts. I didn't have racing confidence, but I had training confidence, and I knew I could do it."
Powell was excited to see Burdon's progress through the season pay off today.
"She was a little spooked because her training has gone really well the past month, but she hadn't put it together in a race," Powell said. "To see her work through that and overcome it shows how resilient of a competitor she is. Kids who can identify what needs to be changed are the ones who generally get better, and that's her."
Burdon's finish in the 3k puts her in fourth in UW history. She is only approaching what she is capable of; her personal best in the 3k is 8:59.18. At last year's nationals indoors, she won an NCAA title as the anchor of the Oregon DMR team, and also earned second team honors in the 3000.
If she is finishes 16th nationally, Burdon will make the national championships in Birmingham, Ala., on March 9.
Reach reporter Daniel Li at sports@dailyuw.com. Twitter: @Daniel_Li7
Like what you're reading? Support high-quality student journalism by donating here.