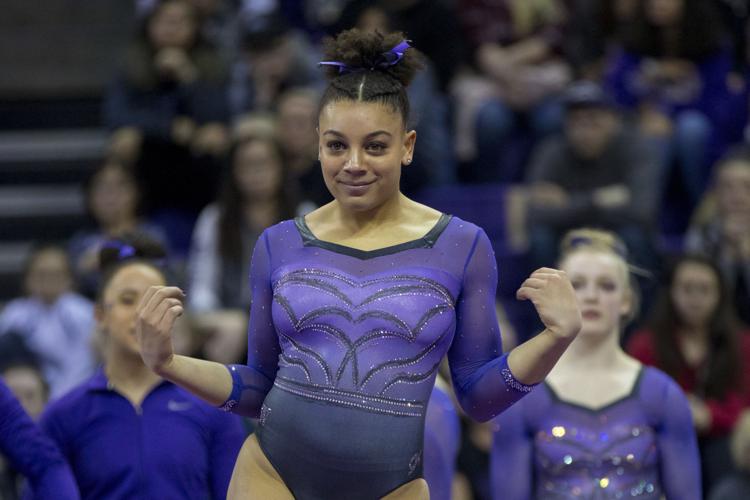 Wherever UCLA goes, a crowd follows. Now, the No. 3 Bruins are coming to Seattle, where the No. 15 Washington gymnastics team will host them in a meet this Sunday that is expected to fill Alaska Airlines Arena.
"We're supposed to have groundbreaking numbers," junior Maya Washington said. "A lot of people are going to be there so that should be exciting. It might feel like a basketball game or something."
With the Bruins known for their floor routines, like Katelyn Ohashi's viral performance that scored a perfect 10, there is an emphasis on the floor aspect of competition this week for the UW as well.
Out of the four events in gymnastics, floor is the area where gymnasts can show off more of their personality and get creative with routines. A floor routine requires combining tumbling passes with dance elements, all set to music. The choreographers behind the performances for the Dawgs are Jen-ai DeCano and Kasey Cottrill.
"They do a really good job of tailoring it to our individual needs and what we are good at," Washington said.
The Huskies perform the same floor routine all season which allows the gymnasts to focus and improve after every competition.
"It stays very consistent all year long just because repetition creates consistency and that's what we need in competition," head coach Elise Ray-Statz said. "But what does get better is the performance of it so they get more comfortable with the choreography and sort of get more comfortable with the routine so they can show it off more."
The UW is still trying to finalize its floor line-ups with senior Monica Riley and freshman Brenna Brooks who both have taken turns competing in that last spot next to Washington, senior Kristyn Hoffa, junior Evanni Roberson, sophomore Geneva Thompson, and freshman Amara Cunningham.
Having the opportunity to host not just a powerhouse of a team, but one that is known for its floor performance will be a challenge for the UW. The Bruins will go first on floor while the Dawgs compete on the beam, then the teams will switch for the final rotation.
"Floor is my favorite event [and] I know for a lot of the floor team it's their favorite event too, so I really think we can bring the whole meet home, wrap it up, and finish really well on a high note," Washington said.
Reach reporter Madison MacPhee atsports@dailyuw.com . Twitter: @madison_macphee  
Like what you're reading? Support high-quality student journalism by donating here.