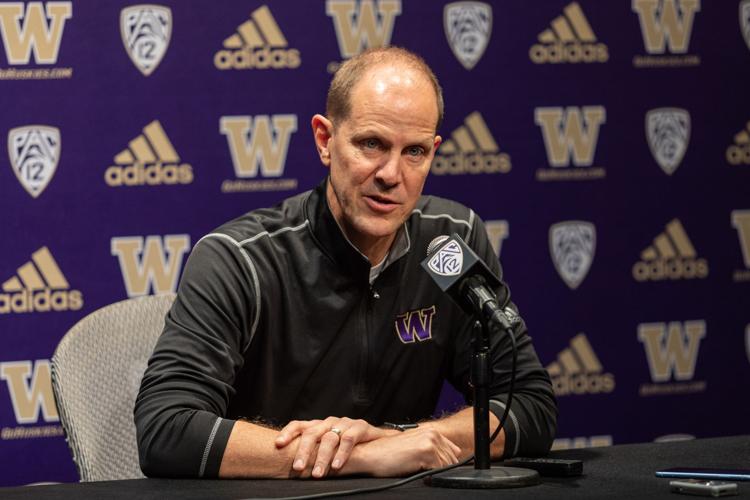 With the season just around the corner, the Washington men's basketball team held an open Media Day where members of the press were able to talk with the team before it opens its season next week. 
Replacing just about every key contributor from an NCAA tournament Round of 32 squad a year ago, the talk of the day was how the Huskies would adjust to so many new faces. 
"We have a system," head coach Mike Hopkins said. "We have a lot of guys that have been in that system… it's just getting the young guys some more experience with that."
Washington will no longer be able to rely on the likes of David Crisp, Matisse Thybulle, or Jaylen Nowell, who have all moved on to graduation or the NBA. Instead, the Huskies have shifted their focus to returnees Nahziah Carter, Hameir Wright, and potential lottery pick freshmen Jaden McDaniels and Isaiah Stewart. 
With a void of leadership heading into the offseason, Wright and Carter talked about taking on that critical role with such a young team. 
"Those guys worked really hard, they gave me a lot of experience and gave us a lot of experience," Wright said of last year's seniors. "Being able to win and go to the tournament for the first time last year, I can take that and move it into this year and give it to our new guys."
On top of replacing one of the best defenders in program history in Thybulle, and a bevy of other talents, the Huskies are breaking in a large freshman class, which includes five-star freshmen McDaniels and Stewart, as well as local talents Raequan Battle and Marcus Tsohonis. 
With opportunities to play aside one another on a trip to Italy over the summer, the Huskies are entering the season with some confidence that they can play well together already. 
"[I learned] a lot of little things," Wright said. "I found out my team has some grit to them. If we really figure out how to play with each other we can be really good."
And after running some man-to-man in Italy, Hopkins didn't rule out the possibility that the Huskies would roll out some different defenses this season after almost exclusively running the 2-3 zone last season. 
"We've got some guys that can do it," Hopkins said. "We have some versatile players that can play multiple positions… It would be great to have an off-speed pitch, something we could go to and have a team out there that could really execute at a high level."
All of this will be on display for the first time this season next Thursday, when the Huskies take on Western Washington at Alaska Airlines Arena in an exhibition contest. The following Friday, Nov. 8, the UW will open its season officially against No. 16 Baylor in Anchorage, Alaska.  
"At this point in the year they're looking to play someone else rather than just beating on each other every day," Hopkins said. "We've got a lot of unknowns but the energy is there, the mindset is there, the type of kid is there. I just can't wait to get on the court so we can start learning about ourselves."
Reach Sports Editor Alec Dietz at sports@dailyuw.com. Twitter: @AlecDietz
Like what you're reading? Support high-quality student journalism by donating here.