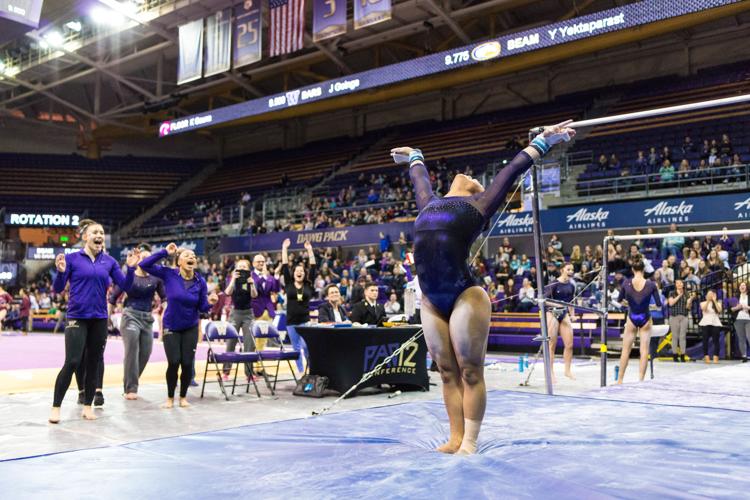 The Washington gymnastics team left last week's scores behind by well over a point with strong bars and beam performances to carry it to a 196.575 in Tucson, Ariz. Junior Madison Copiak took first on both vault and floor, and junior Evanni Roberson scored a career high on beam to lead the Huskies in a successful introduction to Pac-12 competition.
Beam was by far Washington's best event, the Huskies scoring 49.400 as a team. Roberson anchored the team with a 9.950, beating the second-place gymnasts by five tenths. Both of those were from Washington as well, Copiak and senior Mallory Rose both scoring 9.900s.
On bars, five Washington gymnasts scored at least an 9.800 for a team score of 49.275, nearly five tenths of a point above the team's bars score last weekend. Copiak tied for the title with an Arizona's Christina Berg with a 9.900 in an anchor performance for Washington. The score is a career high for Copiak, and one she's met four times.
Senior Monica Riley scored a 9.875 for third place, and Washington's underclassmen weren't far behind, sophomore Geneva Thompson and freshman Brenna Brooks tying for fourth with a pair of 9.850s.
Washington's success continued on vault, where Copiak and Thompson tied for first with 9.800s. It was Thompson's second 9.800 on vault in a row. The Huskies improved on their first week score by a tenth of a point, scoring 48.925 as a team.
While floor was the only event where a Washington gymnast didn't place first, Roberson matched a career-high 9.875 to lead the Huskies and earn second place. An impressive performance in exhibition by Brooks showed Washington's depth on the event as the team scored a 48.925, again improving on its score from last week.
The Huskies will make their home debut this upcoming Saturday at Alaska Airlines Arena against Oregon State.
Reach Social Media Editor Hailey Robinson at sports@dailyuw.com. Twitter: @haileyarobin
Like what you're reading? Support high-quality student journalism by donating here.