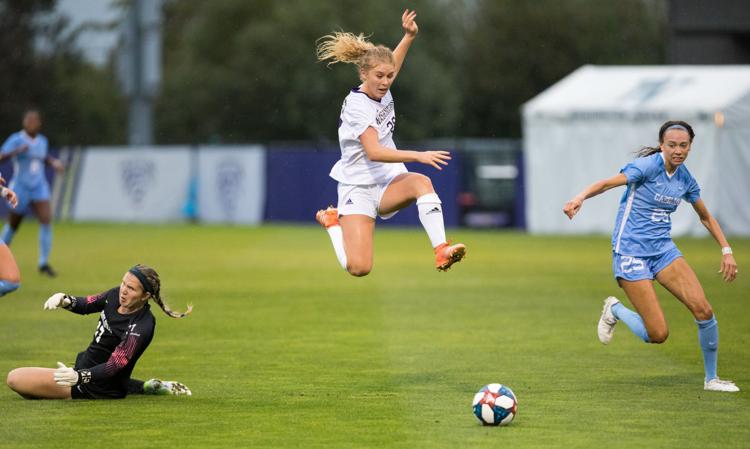 Although the Washington women's soccer team entered halftime with a 2-1 lead, the Huskies lost to No. 2 North Carolina 3-2 on a wet Thursday evening.
Three games into the season, the Huskies (0-1-2) finally broke their scoring drought on a set piece. After a foul by North Carolina's Maycee Bell, sophomore forward Summer Yates scored the UW's first goal of the season in the 22nd minute, curling a free kick from outside the box into the bottom corner to put the UW ahead.
"To get my team on top, against an amazing team like this, it was amazing," Yates said. "The fans really boosted that energy for us and we kept it close all game."
Early on, rainy and slippery conditions led to some sloppy passing for both teams. After the Huskies scored, North Carolina responded with a goal of its own in the 37th minute. Goalkeeper Dani Hansen prevented UNC's first attempt from reaching the back of the net, but Ru Mucherera found it from close range off of an assist by Brianna Pinto.
Later in the half, Washington's Mary Johnston scored the Huskies' second goal of the night off another set piece, putting home a ricochet that was assisted by Mireya Grey.
North Carolina switched goalkeepers at halftime after Marz Josephson allowed the two first-half goals. The Tar Heels' other goalkeeper, Claudia Dickey made three saves and didn't allow Washington to score in the second half.
UNC constantly put pressure on Washington's defense in the second half, keeping the UW off balance to shift momentum.
"There are no moral victories," head coach Lesle Gallimore said. "I think the game ended up swinging the other way because we lacked focus in focus moments."
In the 58th minute, North Carolina tied up the score on a goal by Bridgette Andrzejweski. In the 71st minute, Madison Schultz made a dazzling display of moves in the box before finding the upper right corner for what proved to be the deciding goal, putting UNC up 3-2.
Hansen finished with three saves. Isabella Castro led the Huskies with three shots.
This would have been the UW's first win against a top-10 opponent since beating No. 2 Florida in 2017.
Washington's next game is against New Mexico on Sunday at 2 p.m. The Lobos lost to Portland 1-0 just before the UW's game.
Reach reporter Evan Wong at sports@dailyuw.com. Twitter: @evan_wong29
Like what you're reading? Support high-quality student journalism bydonating here.