The Stable.
It's a simple nickname for the Washington football team's corp of running backs, and they have a simple explanation for it:
"We're all horses," redshirt sophomore Kamari Pleasant said. "Running nonstop. Just keep going and pick up the flag."
Easy enough, right?
Washington has had a history of legendary tailbacks, from Hugh McElhenny in the mid-1900s to Napoleon Kaufman at the end of the millennium to Chris Polk and Bishop Sankey in the Steve Sarkisian era. But when Chris Petersen came to Montlake from Boise State, he brought Keith Bhonapha with him to be his running back's coach, and The Stable came into being at the UW.
"As a group, we want to be the best running back corp in the nation," redshirt sophomore Sean McGrew said. "I think we've been able to prove our depth this season. We just come out here and work hard day in and day out, we want to make each other better. The Stable is just us working hard."
That depth mentality has come to the forefront over the past few weeks, as the group's prized stallion has had to watch from the sideline.
Myles Gaskin, who already holds the UW career records for rushing yards and rushing touchdowns, turned down a chance at the NFL Draft after last season. But a mid-season injury limited his playing time against UCLA and Oregon. Against Colorado — for the first time in his four years in Seattle — Gaskin had to sit out, and he did so again against Cal.
But that only lets the other horses — Pleasant, McGrew, and sophomore Salvon Ahmed — get their chances to run.
___
The man who runs The Stable has a simple nickname of his own. "KB," as he's known to those in the program, wasn't himself a running back. The Oakland native played primarily special teams as a defensive back at Hawaii, and when he graduated in 2003 immediately moved on to coaching. After three years at UH as a graduate assistant, Bhonapha made the move to Boise State, first as a director of operations, then taking charge of running backs in 2009.
Bhonapha added recruiting coordinator to his list of titles for the Broncos in 2011, and in 2014 made the trip to Seattle with Petersen to hold those two roles at the UW. Now, he's developing recruits into horses.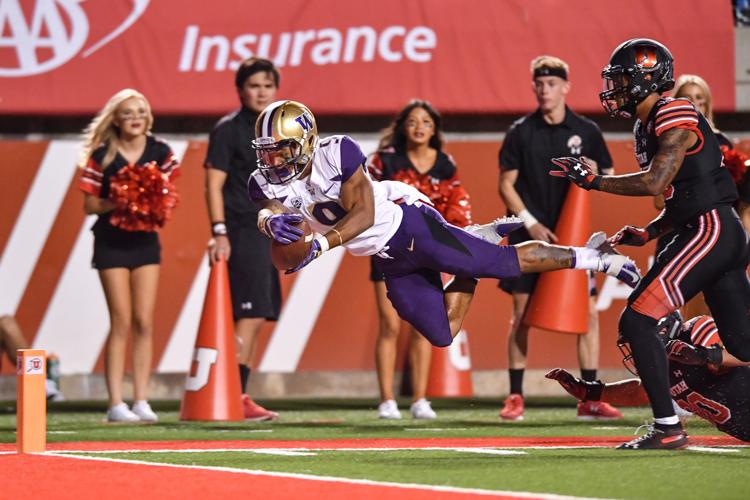 "I think the biggest thing that I'm always trying to get these guys to understand is that it all comes down to the effort that you're going to have day after day," Bhonapha said. "Effort in the meeting room, effort in practice, effort in the games, effort in the weight room. It's the type of attitude you're going to have. Are you going to have that competitive mentality where you're trying to do and willing to do whatever it takes to win?
 "And then obviously, [there's] the toughness part at our position. You're going to be dinged, you're going to be nicked. Are you tough enough to go through it? On top of that, I think the toughness part of being able to go through it is being mentally tough as well. So the thing that I'm always trying to portray to those guys is having that effort, that attitude, and extreme toughness."
Perhaps no two players are better examples of the process of Bhonapha's mentality than Pleasant and McGrew. Coming into their third years at Washington with a combined 31 touches between them in their careers, both saw a large increase in usage when Gaskin and Ahmed suffered injuries. Ahmed has been good enough to play in each game, but the other two have combined for over half of Washington's carries in the past two weeks, and over 70 percent of the rushes by tailbacks.
Pleasant came into the game against Oregon with 94 career rushing yards; McGrew had 117. In the past three weeks, they've rushed for 127 and 108, respectively.
"I think everybody else is more surprised than I am," Bhonapha said. "Day after day, those guys have come out, worked hard. Obviously, they've been through the grind of what it takes to take the next step to get on the field here, and they've done that. Obviously, they wouldn't be out there if they hadn't taken the next step. But the thing that I'm happy about is that you go so long preaching to these guys about what it takes to get onto the football field, and to actually not just get out there but get out there to be successful."
With the emergence of those two, Washington has evolved — not necessarily by choice, but by circumstance — from a one- or two-trick show to a full-on stable.
Of course, it begins with Gaskin, the undisputed leader.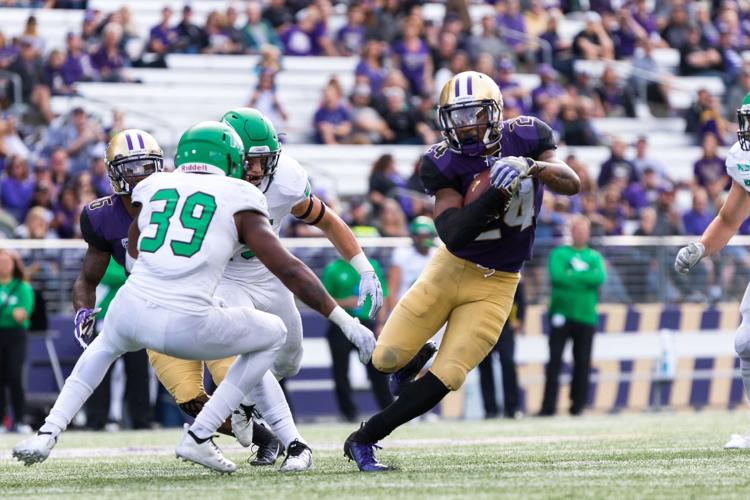 "I think Myles just has an extraordinary feel about it," Bhonapha said. "It's certainly one explanation for his success."
Then there's Ahmed, one of the more electric players Petersen has recruited. After averaging nearly 6.5 yards per carry as a true freshman, the coaching staff has made it clear how much they want to get the Juanita High School alum going.
"I think he's a really explosive player that needs to get the ball in different ways," Petersen said before the season even started. Just nine games into the season and dealing with his own minor injury problems, Ahmed has already surpassed his yardage and touchdown totals from last year.
Pleasant presents a contrast to Ahmed's speed. Fitting more of the mold Lavon Coleman filled up to last season, the Rialto, Calif. native is one of Washington's more physical weapons. Indeed, when Coleman suffered a concussion and had to sit out in the UW's game at Colorado last season, Pleasant came in as Gaskin's lead blocker in his first collegiate action.
Now, he's continuing to be that physical option for the offense.
"I think Kamari is interesting," Bhonapha said. "He's a big, strong back, he's physical. He definitely has good vision and he has the ability to break tackles; he's a hard runner."
Lastly, move on to McGrew, technically the third option on the UW depth chart —- not that that means a ton. Listed at 5 feet, 7 inches and 174 pounds, McGrew is officially the smallest player on the UW roster. But the 2015 Gatorade Player of the Year has stepped up in a big way for the Huskies this season; when Washington needed to salt away the clock at UCLA, but Gaskin was on the sidelines, Bhonapha turned to McGrew.
"Sean has really great feet, he does a great job using the leverage of blocks, and that's what makes him successful when it comes to the reps he's gotten so far this season," Bhonapha said.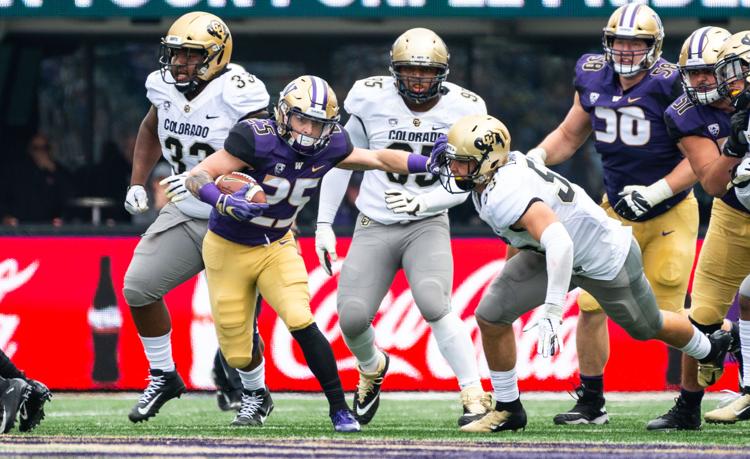 So while Washington fans (and coaches) may have been happy giving the ball to Gaskin four times out of five with an occasional change-of-pace run for Ahmed at the beginning of the year, in recent weeks the run game has been more all-hands-on-deck. But Bhonapha is showing that he has plenty of cards to play, and when Gaskin comes back, he'll have a full Stable to run with.
"When you have multiple guys that you can play, multiple guys that can go out there and be productive, you definitely have fresh legs out there, and that's always good," Bhonapha said.
That dynamic has been key for Washington's Stable. Everyone's running, going nonstop. And on any given play, someone is in to carry the flag.
"We're a focused, hardworking group, something the team can depend on," Ahmed said. "We take pride in going out there and being able to make plays. Say we've got a guy like Myles out — he's kind of our leader — as a Stable we're going to stay close, stay hardworking, and we're going to get the job done."
Reach Sports Editor Josh Kirshenbaum at sports@dailyuw.com. Twitter: @J_Kirshenbaum