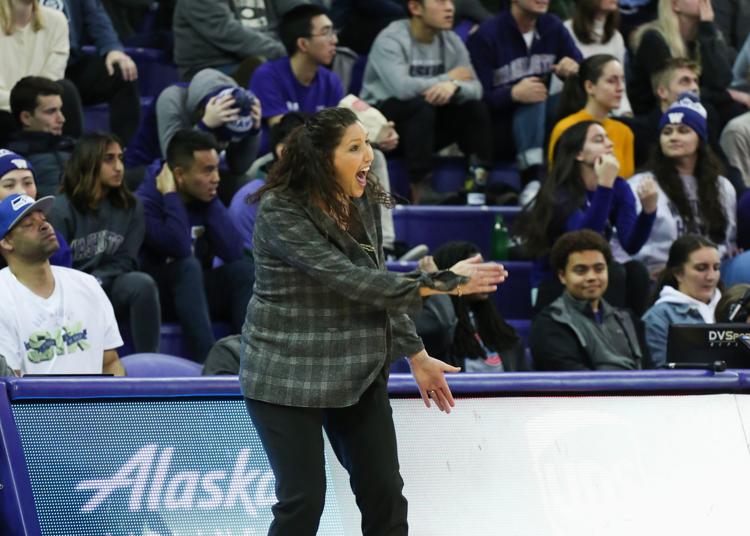 The Washington women's basketball team's biggest enemy hasn't been its opponents this season. Instead, it's been fatigue. The Huskies have yet to put together a full game, instead continuously losing control of games in the second half.
"That's a key, to put 40 minutes together," head coach Jody Wynn said. "We've put 30 minutes together several times, 35 minutes together, but there's been some lapses when fatigue sets in."
The Huskies (10-5, 2-2 Pac-12) are expecting this weekend to be fast-paced, so fatigue might be a problem. It doesn't just mean the Dawgs make fewer shots or lose control on defense as the game goes on. 
"There's been a lack of communication on the basketball court, especially in transition," Wynn said. "When we're not scoring the ball and we're back in transition, there needs to be better communication."
That lack of communication has been hurting Washington, where things have seemed to fall apart late in both losses and close wins this season. The Huskies have been outscored in the fourth quarter in 10-of-15 games this season and lost three times when they've lead heading into the fourth quarter. 
The Dawgs may get a lot of players on the court and make subs like hockey teams make line changes, but it doesn't stop them from getting tired and that means they lose focus. They aren't quite as aggressive as they tend to be earlier in the game, and they don't get as many opportunities to score.  
"A lot of it has to do with continuing to focus throughout a full 40 minutes and being able to play through fatigue a little bit better and make sound decisions," Wynn said. "At this level, one possession can cost you a game. So we've got to continue to stay focused and communicate to each other on the basketball court for the full 40 minutes."
This weekend
The Huskies will play No. 18 Arizona State Friday at 7 p.m. Arizona State went into last weekend unranked before beating the No. 2 and 3 teams, Oregon and Oregon State. The Sun Devils (13-4, 3-2 Pac-12) were the first unranked team in NCAA history to defeat two top-3 teams in back-to-back games. 
"They've certainly garnered the national notoriety and respect that they definitely deserve," Wynn said. "They're playing really good basketball right now."
The Huskies will host No. 21 Arizona Sunday at 2 p.m. The Wildcats (13-3, 2-3 Pac-12) are led by former Washington guard Aari McDonald, who leads the Pac-12 with 20.1 points per game. 
Reach Engagement Editor Hailey Robinson at sports@dailyuw.com. Twitter: @haileyarobin
Like what you're reading? Support high-quality student journalism by donating here.