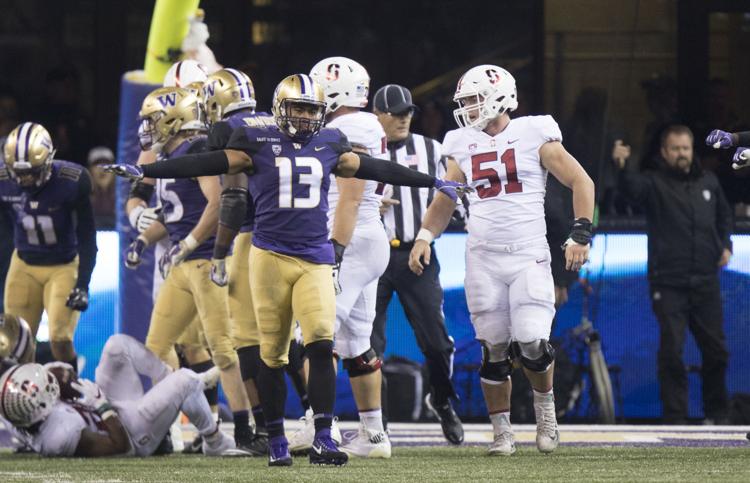 With a bye week on the schedule for the No. 18 Washington football team, head coach Chris Petersen did what came naturally this past Saturday: he watched a football game.
More specifically, Petersen got to watch Stanford smack around former UW offensive coordinator Jonathan Smith's Oregon State team in a blowout –– live. For a coach who spends untold hours every week watching film cut-ups to prepare his staff and team for the next game, watching as a fan provided a bit of a different experience.
"I think it's interesting to watch a game in its continuous fashion," Petersen said at his Monday press conference. "We watch so many cut-ups that all of a sudden you're watching the offensive side of the ball and they start a drive at the 35, or someone's like, 'How'd that happen?' Well because of a big kick return or an interception, or something, and that changes the mojo of the game. So it is interesting to watch the whole game and how to evaluate it there."
Now it's the UW's turn to face the Beavers (2-8, 1-6 Pac-12). It'll be a homecoming for Smith, who spent the past four years on Montlake as Petersen's OC and the two before that at Boise State as his quarterbacks coach.
"He's an awesome person, that's first and foremost what I always gravitate toward," Petersen said. "I think he's a heck of a coach, I really do. I really enjoyed working with him, I think we saw eye-to-eye on a lot of things, where we started with the offense to where it ended up where he left was really good."
In his press conference, Petersen discussed the postseason in college football, comparing the FCS' 24-team playoffs to the FBS' four-team tournament and bowl system and saying that he knew of many coaches who were for expanding the current system.
In a way, Petersen could get his wish for a longer road — starting now. Just think of it this way: If Washington wins Saturday, it gets the chance to play for the Pac-12 North in the Apple Cup. Win that game, and the Huskies go to the conference championship game in Santa Clara, Calif. Win then, and punch a ticket to the Rose Bowl.
So for the Dawgs, it could be seen as a four-tier tournament — if you squint a bit. Luckily for them, their bye week came just in time for a stretch run.
"You get this deep into the season you kind of get rejuvenated a little bit," Petersen said. "They had some time off. We didn't practice a bunch but when we did it was really productive and so it felt pretty good. And so I think those guys will have a couple good practices here this week. There's no excuses for being too tired or anything like that. So here we go. We got two games left. We see where that whole things takes us, but it was a good chance to get rested up."
Washington has dealt with its fair share of injuries, both major and minor, and the week off gave an extra week of rest. Defensive coordinator Jimmy Lake told the media that Jordan Miller — who was limited against Colorado and missed the games against Cal and Stanford — and Myles Bryant — who was out against the Cardinal — are both good to go. Chris Petersen was vague about the status of Shane Bowman, who has missed over a month with a foot injury, only saying that "he's getting close."
Throw in Myles Gaskin and Hunter Bryant, who both returned to action two Saturdays ago, and this could well be the healthiest team Washington has been able to field since the beginning of October.
"We went through all training camp, 10 straight games, obviously some ups and downs, guys playing hurt, guys that are hurt not playing," Lake said. "Bye weeks are always good to just reset a little bit, and get ready for the fight for these next couple games."
And despite possibly not being thrilled with such a late bye during the slog that was October, now that it has come, it couldn't have done so at a better time.
"Wherever it falls, as long as it's not like after Game 1, byes are always good," Lake said. "If it falls after 10 games, great … it is what it is. Whenever they schedule it, we'll deal with it as they come."
Reach Sports Editor Josh Kirshenbaum at sports@dailyuw.com. Twitter: @J_Kirshenbaum
Like what you're reading? Support high-quality student journalism by donating here.