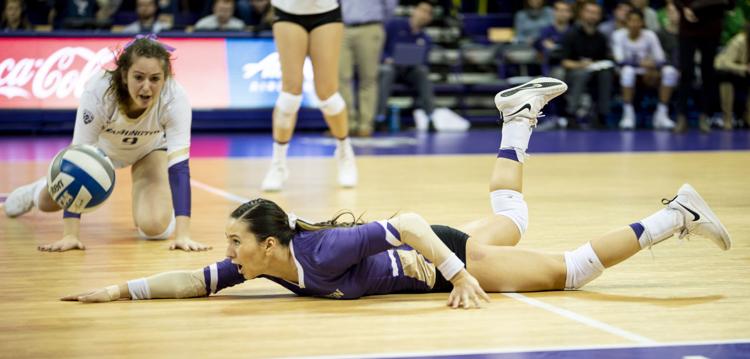 The No. 19 Washington volleyball team battled No. 17 Oregon through five tough sets before getting edged out 3-2 (25-16, 23-25, 25-12, 20-25, 13-15) in what was one of the team's better offensive matches of the season.
For the Huskies (18-11, 10-9 Pac-12), however, it wasn't about the final score, but how they played the game. Coming into this week, the goal for Washington was to become the team it wanted to be in December. Against Oregon, the Dawgs were much closer to who they want to be than at any other point this season.
"Pretty much the only way you want to lose," head coach Keegan Cook said. "The only way you want to play in the tournament is all out and going to a fifth set and losing by two points. This match, from an execution and effort standpoint [was] a lot different than Stanford. [I'm] glad to see us take a step towards being a better tournament team."
Washington had what may have been its best offensive performance of the season, an impressive feat against an Oregon defense that had 72 digs. The Huskies hit .556 in the third set, where they doubled up on the Ducks for a 25-12 finish.
"We hit maybe one ball out through the first three sets," Cook said. "That's something we've been talking about for a month. When we hit the ball in, we're just a dangerous team and we can do a lot offensively."
The fourth set, where Washington's offense broke down, was where the match was really lost for the Dawgs, as the errors returned.
"In the fourth set, right away I think we made two or three hitting errors in the first 10 points and I thought, alright, we're still trying to become that team that consistently hits in," Cook said. "We stalled late, we had a few errors late in that match and that's tough."
Once in a fifth set, the match was essentially set back to zero and could go either way. Like the 2-2 score of the match, the set was a close one, tying six times with the lead changing four times. Senior Destiny Julye had a key kill that kept the Huskies in until the very end, and Washington fought off match point once before the Ducks won.
Julye also added one of Washington's eight aces — part of an excellent match for the UW serve —  in what will most likely be her last match at Alaska Airlines Arena.
"Our season has been a little tough this year but I think tonight showed in ebbs and flows that we can go somewhere," Julye said. "I'm really fortunate that I have girls that fight, and girls that are so talented, and ones that really pull for me. I'm really excited for what's next."
The Huskies will head to Pullman to play a second Apple Cup matchup on Saturday at 4:00 p.m.
Reach Social Media Editor Hailey Robinson at sports@dailyuw.com. Twitter: @haileyarobin
 Like what you're reading? Support high-quality student journalism by donating here.