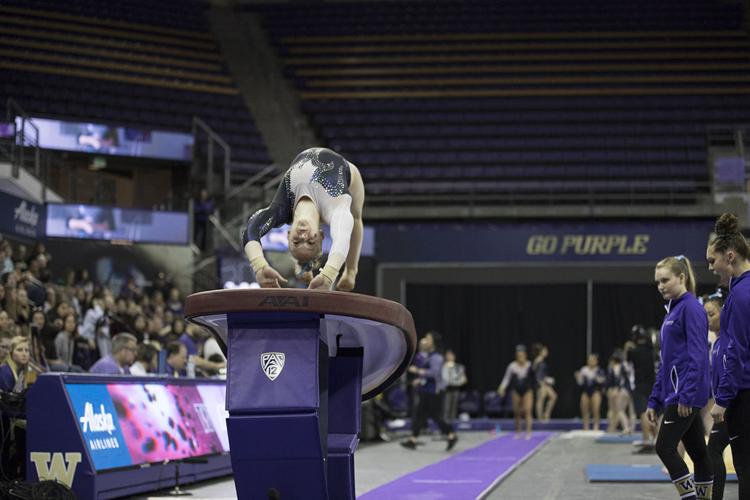 The No. 15 Washington gymnastics team didn't quite keep up its consistently climbing scores against No. 3 Utah, but nevertheless had a strong meet, scoring a 196.250. While Utah took the win with a season high 197.700, several Huskies still had strong individual performances to contribute to their final team score.  
Washington faced tough competition in Utah, a team that ranks in the top 10 in the country on every event and is the home of MyKayla Skinner, whose two Pac-12 gymnast of the week awards this season have already tied her for the for the Pac-12 career record, just a few meets into her sophomore season. Skinner and Utah's MacKenna Merrell-Giles traded off topping the podium on all but one event, bars, where Washington junior Monica Riley took home the title.
Riley scored a career-high 9.900 on bars, topping her previous high of 9.875, set las weekend at the Metroplex Challenge. Riley also scored a 9.800 on vault, where sophomore Haley Roy once again lead the Dawgs with a 9.825.
Riley's title for the Huskies led the team to a 49.150 score on bars, and Washington also scored a 49.150 on floor, where senior Hailey Burleson took the lead for the team. Burleson scored a 9.875, continuing the strong floor campaign that began at the Huskies first home meet two week ago.
Sophomore Evanni Roberson continued her strong first season of competition with a career-high 9.850 on floor, and sophomore Maya Washington and junior Kristyn Hoffa both added scores of 9.825 to the Huskies total.
On beam, senior Joslyn Goings combatted earlier season struggles and scored a season-high 9.850, tying Burleson for team lead, as well as two Utah gymnasts in a four-way tie for second place.
After spending four of five meets to start the season on the road, the Huskies will return to Montlake next weekend to host another top-25 Pac-12 rival, No. 13 Oregon State.
Reach Managing Editor Hailey Robinson at sports@dailyuw.com. Twitter: @haileyarobin