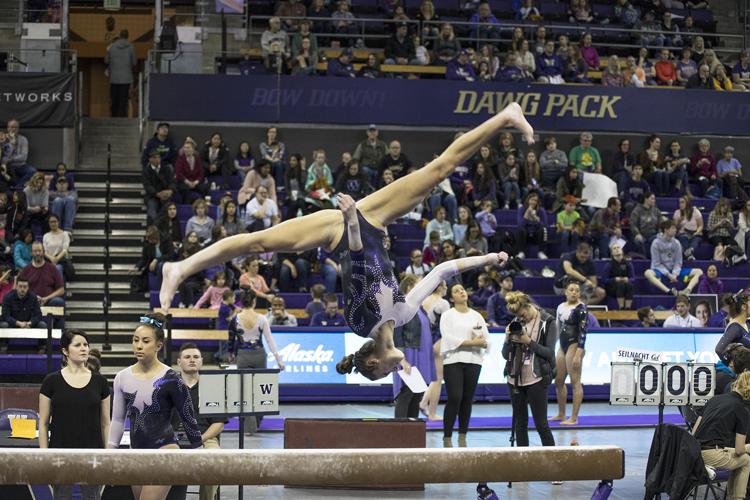 A top half of the season spent mostly on the road has been a challenge for the No. 16 Washington gymnastics team, but a more balanced end to the season will kick off against No. 11 Oregon State at 1:30 p.m. Saturday at Alaska Airlines Arena.  
"We've been on the road a lot early this season, so it'll be really nice to be home," head coach Elise Ray-Statz said. "We need to get better in competition than what we're doing, so it's good to be home to do that because they're more comfortable."
The Huskies have competed on their home equipment only once this season, and it resulted in a 196.325, a sixth-tenths jump from their previous best team performance. In the two meets since, the team has stayed in the mid-196 range, and the hope is that the return home will trigger another big jump in scores. 
"The magic number is 197," Ray-Statz said. "We hit it a couple times last year, so we're just trying to hit it more next year, trying to train like that and have it show up when it counts."
The Huskies' opponents this weekend, Oregon State, have also not yet achieved a 197, but have made it close, scoring a 196.975 two weeks ago in Corvallis. 
It would take a jump of nearly five-tenths from their season high for the Huskies to reach a 197, but the Dawgs feel like they're capable of that score. Several Huskies had individually strong performances last weekend, but this week will be focused on collective improvement as a team. 
"I think we're trying to move in the right directions, we just keep trying to focus on details under pressure and hitting those handstands, getting sticks, really solid landings on floor and beam," senior Joslyn Goings said. "We have some work to do as far as transferring over from practice to the meet but we're slowly moving in the right direction."
When it comes to performing in meets like they do in the gym, the Dawgs are focusing on the mental aspects of gymnastics. Last weekend, junior Monica Riley scored a career high 9.900 on bars after an already strong season on the apparatus, her consistency in practice paying off in the form of a bars title. 
"It felt really nice to steadily keep improving," Riley said. "I've been working a lot on my mental skills and it's coming into play now in my performances. Physically, I've been able to do it, and now I'm mentally strong enough to hit a good performance and do it for my team."
Reach Managing Editor Hailey Robinson at sports@dailyuw.com. Twitter: @haileyarobin