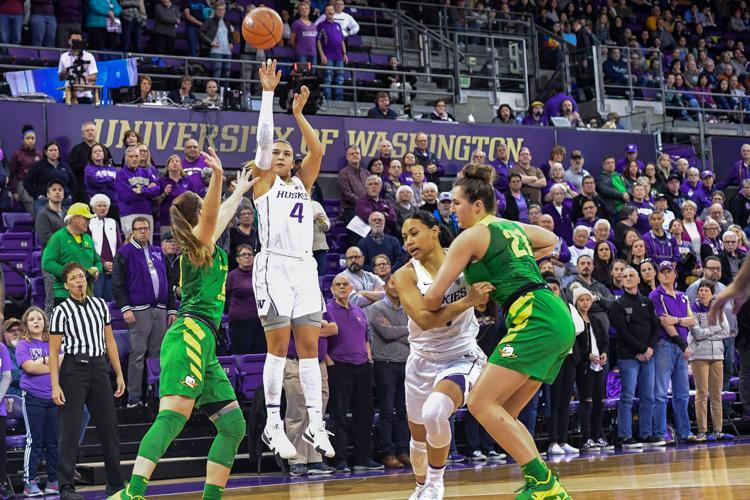 In her 46th career start, Washington women's basketball star and leading scorer Amber Melgoza broke the 1,000 career point-barrier after a mid-range jumper in the first quarter in a 76-57 loss to the No. 5 Oregon Ducks.
Coming into the game with 999 career points, head coach Jody Wynn drew up a play to start the game specifically for the junior guard. 
"I was supposed to reject the screen, and go off of it, and then go one-on-one against Sabrina [Ionescu]," Melgoza said. "I saw her sag off a little bit, so I pulled up."
She joins 27 other Huskies to achieve the feat, with just under a year and a half of eligibility remaining in her career.
"It's a good honor," Melgoza said. "It's something that I've worked really hard for, but I truly wish we would have won the game tonight."
Melgoza's numbers are even more impressive given the limited amount of playing time she received in her freshman season, where she averaged around eight minutes a game and had just 53 total points. No UW player in the 1,000-point club scored less points than Melgoza in a single season, with Chantel Osahor being the next closest in her freshman season, scoring 65 (in 142 more minutes).
However, with a brand new roster and a fresh start, Melgoza took off as Washington's best scoring option and has put together one of the better two-year stretches in program history.
"It was something that I learned everyday from watching Kelsey Plum from freshman year," Melgoza said. "My sophomore and junior year I had to put my head down and try to separate myself from other people, and work hard, and get myself in the gym, which will payoff down the road."
Currently, Melgoza is on pace to score more than 500 points this season, and would join six other UW stars who accomplished that feat in more than one season: Rhonda Smith, Megan Franza, Giuliana Mendiola, Jamie Redd, Jazmine Davis, and Kelsey Plum.
"She got there in two-and-a-half years, she's that prolific of a scorer," Wynn said. "She works hard, she's in the gym everyday, after practice, before practice, and she shoots, shoots, shoots. It matters to her, and I'm proud of her to be in the record books here at UW."
Melgoza has scored 1,009 career points in a UW uniform to date. 956 of those points have been scored in the last two seasons combined. With just about a month left to go in the season, the junior will look to topple more Washington records in the purple and gold.
Reach Assistant Sports Editor Alec Dietz at sports@dailyuw.com. Twitter: @AlecDietz