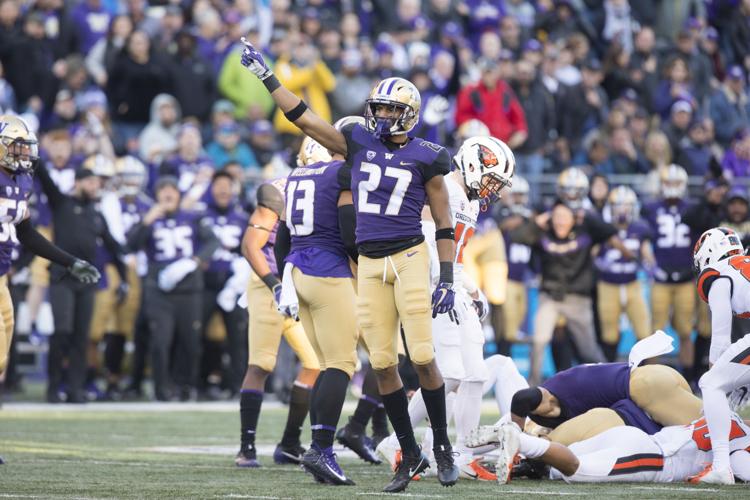 Before the Washington football team starts fall camp on Aug. 2, read our writers' best takes on the upcoming football season. Today, Alec Dietz, Josh Kirshenbaum, and Hailey Robinson tackle who the breakout candidates for 2019 are. Read the Daily's thoughts on the UW's biggest strengths here, and our thoughts on the UW's biggest question marks here. 
Alec Dietz - Terrell Bynum or Marquis Spiker
I couldn't narrow it down completely, but one of those UW receivers is bound for a breakout season, right? 
Last season, I picked Aaron Fuller as Washington's breakout candidate, and while he came out strong in the first half of the season, his numbers dipped a bit and other receivers (namely Andre Baccellia) finished the year stronger. However, more often than not a season ago, the Washington offense was let down by its receiving core and had trouble pinpointing one go-to guy.
I think Bynum or Spiker could be in line for a big season. It was surprising Spiker didn't play a down last season, given he has the most touchdown receptions in California state history and he was one of the top receivers to come out of high school in the entire country, and Bynum was also one of the top prospects coming out of high school. Both Spiker and Bynum had strong springs, and if they can carry that over into the fall they could help new quarterback Jacob Eason (most likely) start his season strong. 
Josh Kirshenbaum - Keith Taylor
At this point, is it cheating to put a defensive back in this slot? If anything, losing four starters in  Jimmy Lake's secondary just opens up spots for four new breakout stars. It wouldn't be a shocker if Taylor and Kyler Gordon and Elijah Molden and Julius Irvin and Cameron Williams for all we know end up breaking out this season.
But Taylor, who's in line to start at cornerback with Jordan Miller and Byron Murphy now in the NFL, could be the best bet not only to jump into a starting role, but to earn national attention.
The 6-3 junior played in all 14 games last season, but will go into 2019 still looking for his first interception. 
Back in 2017, Byron Murphy earned his first career start in the season-opener at Rutgers and hauled in two interceptions. The next week against Montana, Murphy had an acrobatic break-up on the second defensive drive, and that was pretty much enough to establish his side of the field as a no-fly zone until he left for the draft after last year. Taylor has the size, the tools, and the experience to have a similar start and put his name down on the long list of talented corners the UW has manufactured.
Hailey Robinson - Joe Tryon
It's no secret that Washington's outside linebackers didn't get much done last year. They had three sacks, with none of those coming in the first 10 games. That being said, it was a unit working with minimal experience. This year, pretty much everyone is back, including sophomore Joe Tryon. 
Tryon had 20 tackles in 10 games in his redshirt freshman season, third among UW's outside linebackers, and he has the potential to get a lot more done this year as a starter. At 6-feet, 5-inches, he's one of the tallest on the team, and he's also fast enough to get around the edge. 
Not only do his size and speed make him a potential breakout star for the Huskies, they need him to be one. While the end of the season was certainly better than the start for Washington's outside linebackers, a breakout season from Tryon that's solid from the beginning will add a lot to the UW defensive front.
Reach the Daily Sports Staff at sports@dailyuw.com. Twitter: @UWDailySports
Like what you're reading? Support high-quality student journalism by donating here.