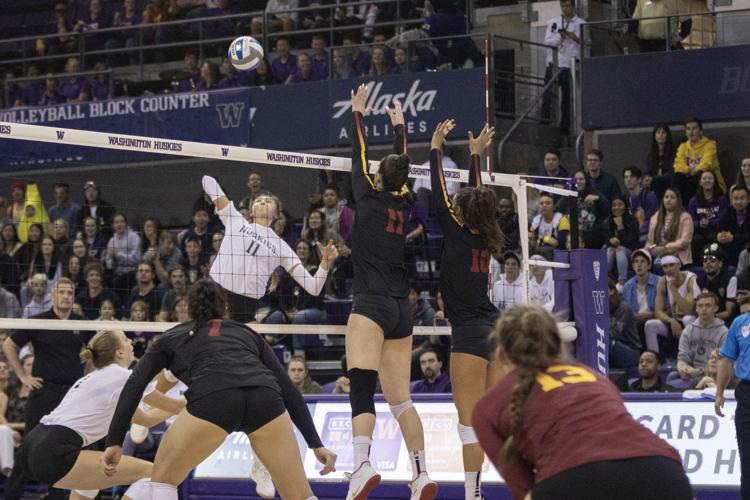 The No. 12 Washington volleyball team had its first chance to avenge a loss this season as USC came to town, but things didn't go as planned in a five-set loss (25-18, 22-25, 25-19, 21-25, 11-15).
The Huskies (16-5, 7-4 Pac-12) had moments of success in the match: a 7-0 run early in the first set, four kills in a row by sophomore Shannon Crenshaw, starting the match hitting .433. They fought hard for a win, and it seemed almost inevitable in the two sets they won. 
But Washington was also plagued by errors. It was most obvious in the fifth set, where nine of USC's 15 points to win came not from a Trojan kill, but by UW error. The Huskies killed eight balls, and errored while attacking eight times, for a .000 hitting percentage. 
"You can't do that," head coach Keegan Cook said. "That's just a fundamental thing that you can't do."
Looking at the numbers, the match seemed to swing violently from good to bad for the Huskies. In the first set, they were hitting over .400, but in the second they hit .103 with only eight kills and five errors. In the third set they seemed to bounce back, hitting .325, but things looked down in the fourth set where they hit .167. 
But when it came to the turning points of each set, the really important things were happening right at the beginning or right at the end. The Trojans started the second set with a 7-0 run, and did themselves one better in the fourth set, finishing with an 8-0 run. 
In the second set, the Huskies couldn't catch up. In the fourth set, it was just too late. 
"It's really hard to be great," Cook said. "The margins are very thin, and I'm disappointed that we weren't able to close out that fourth set or do better in the fifth."
The biggest offensive threat in the match was USC senior Khalia Lanier, who finished the match with 33 kills. She was USC's entire offense in the fifth set, scoring all six of the team's kills. She had six kills in every set except the second, where she scored nine. 
On Washington's side, Crenshaw had herself a night that could've been the story of the game, with a career-high 13 kills hitting .300, and another career-high 21 digs to lead the match. 
"If not for losing that match, that's what we would be talking about," Cook said. "I wish I could be talking about that, and how she was great and gave us a chance to win."
The Huskies host No. 25 UCLA on Sunday at 2 p.m. 
Reach Engagement Editor Hailey Robinson at sports@dailyuw.com. Twitter: @haileyarobin
Like what you're reading? Support high-quality student journalism by donating here.