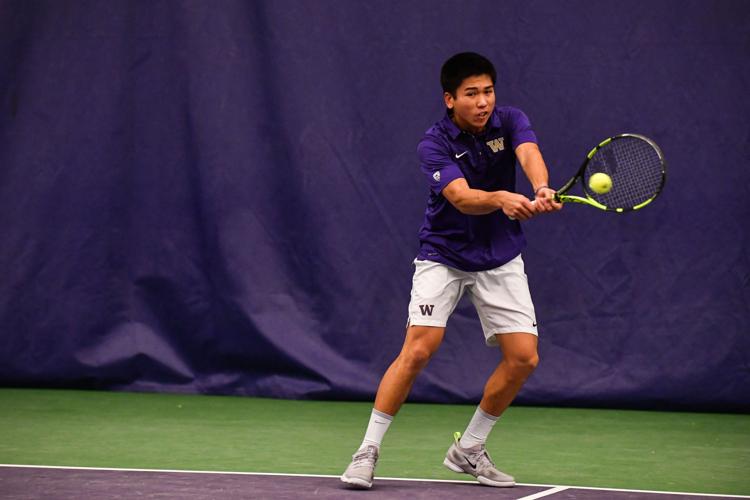 With classes back in session at the UW, students are adjusting to their new schedules and getting back into the groove of things. This includes the players for the men's tennis team. 
The Huskies (10-7, 0-2 Pac-12), with a demanding schedule coming up on the court, do not have the luxury of taking things slow in their return to classes. 
"The downtime has been nice," junior Kawika Lam said. "Getting back into things will be tough because we haven't had school for about a week and a half, but we play on Wednesday, so that will get us going."
The match Wednesday against UCSB is a makeup for one scheduled earlier in the season that was moved due to the fires in California. It will be the first midweek match of the season for the Huskies. 
"There's not really a difference," head coach Matt Anger said. "It will be interesting to see how the guys feel Thursday morning, but going into the match, it's no different, when you're thinking about tennis that's the important part." 
The demanding schedule will soon bleed its way into the classroom as well, something the Huskies know all about. 
"One thing I like about the quarter system is that you need to start right away," Anger said. "You have to have that intensity, and our guys historically are pretty conscientious and do well with that. They'll get some reminders, but they are good at doing that on their own."
The Huskies will look to carry over the momentum of a successful road trip down to San Diego last week, their first road trip of the season. 
"Obviously you love playing matches at home, but one thing you do miss when you're on the road is just the comradery and everybody being together and bonding through that," Anger said. "I think we had a great time, and then you add that to winning the matches, and that makes the plane trip home that much more enjoyable."
Reach reporter Kyle Gehler at sports@dailyuw.com. Twitter: @KyleGehler