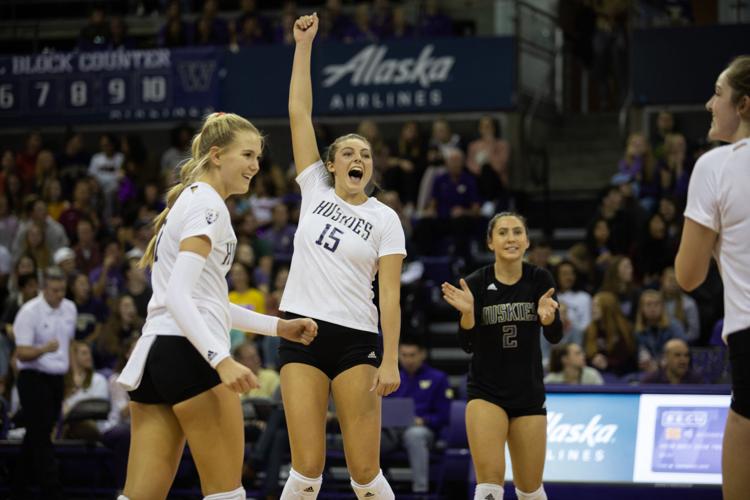 The No. 11 Washington volleyball team didn't get off to the start it wanted against Oregon State. 
The match began 10-5 in OSU's favor, which wasn't a totally unfamiliar situation for the Huskies (12-3, 3-2 Pac-12). The last two weekends have started with losses, and they didn't want that to happen again. So head coach Keegan Cook called a timeout. 
"We've talked about it, how do we want to communicate when we don't start well or we're down by five points," Cook said. "Kind of just exchanging information, we knew we had made a couple weird plays, a couple nets, a couple hitting errors. There's no reason to get upset, just focus on the things you can do, and slowly but surely we climbed back into it and took off from there."
Washington went on to defeat the Beavers (8-8, 2-3 Pac-12) in three sets, a clean sweep that started with a 25-19 win in the first, and a comeback that began in that timeout. 
"I think our block got in place," junior middle blocker Lauren Sanders said. "We kinda calmed down and got our serve down. And then we started playing like the team we are truly."
The Huskies still felt that they weren't that team in the first set. They hit a matching .345 with Oregon State, and they thought that they should be hitting better, and making sure the Beavers weren't hitting quite as well. 
"We came into the huddle and we were like 'we're going to focus on our defense, we're going to focus on getting touches on the block, being in the right spot, and we're going to have this intensity for this game,'" senior outside hitter Kara Bajema said. 
The Dawgs doubled their first-set numbers with six blocks in the second set. They only had one hitting error in the entire set as well, hitting .483. With a sideout percentage of 87%, they completely dominated the Beavers in serve-receive. 
The second set bolstered Washington's final statline: a .429 hitting percentage, 10 blocks, and seven aces. 
The UW serve looked strong throughout the entire match. Even when the Dawgs weren't getting aces, they made the Beavers look uncomfortable on the serve, putting them in some uncomfortable defensive situations. Washington also managed to keep down service errors, something the team has struggled with this season. 
On the offense, the Huskies looked incredibly balanced. Bajema had 12 kills, junior Sam Drechsel had 11, and sophomore Claire Hoffman had 10. 
"I think the court was evenly spread and all of our hitters hit good shots," Bajema said. "We weren't trying anything too special. If one shot worked we hit it again, then we hit it again, then we'd try something else."
The Huskies will host Oregon at 2 p.m. on Sunday in Alaska Airlines Arena. 
Reach Engagement Editor Hailey Robinson at sports@dailyuw.com. Twitter: @haileyarobin
Like what you're reading? Support high-quality student journalism by donating here.