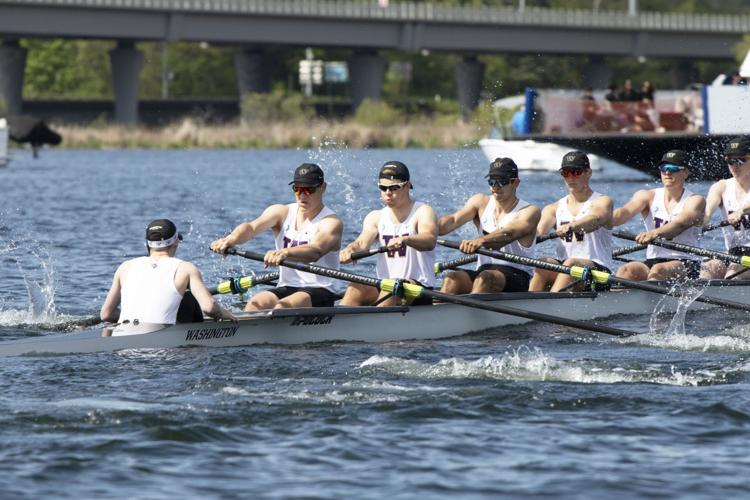 The Washington's men's rowing team left Gold River, California and the IRA Championships as the winners of the James Ten Eyck Trophy and the team championship, but couldn't win the national championship in the determining race, the varsity eight.
The varsity eight marked the last race of the day for Washington. The entire field was tightly packed in the first 500 meter stretch but Yale pulled ahead in the lead going into the midway point. The UW tried cutting into Yale's lead during the back half of the race.
But while there was a valiant push in the last 250 meters for the Huskies, Yale never relinquished their lead. Washington finished in second place for the third straight year and crossed the finish in 5:36.079, while Yale, for the third straight year, came across the line in first with a time of 5:32.939.
In the second varsity eight, Washington trailed Cal after the Golden Bears jumped out to a big lead. The Huskies tried to stay within striking distance but the deficit was too much to overcome as the UW fell short. Washington came in second with a finishing time of 5:40.347 and Cal won with a time of 5:38.205 to capture the Kennedy Cup.
For the third varsity eight, the Huskies led by about eight seats near the halfway mark. Washington maintained this lead on its way to a first place time of 5:43.668 over second place Yale (5:46.083). The UW won the Stewards Cup for its efforts in the 3V8+.
Washington kicked off the morning's action with the varsity four. In the last 200 meters, the UW caught Cal and took first place with a time of 6:19.868 to earn the Eric W. Will trophy. The Golden Bears finished in second and crossed the line in 6:20.963.
All in all, a good showing for the Huskies who won two championships in the 3V8+ and the V4+, and second place finishes were enough to win the Ten Eyck. But for the third straight year, Yale came away with the national championship in the varsity eight, with UW just behind.
Reach reporter Evan Wong at sports@dailyuw.com. Twitter: @evan_wong29
Like what you're reading? Support high-quality student journalism by donating here.