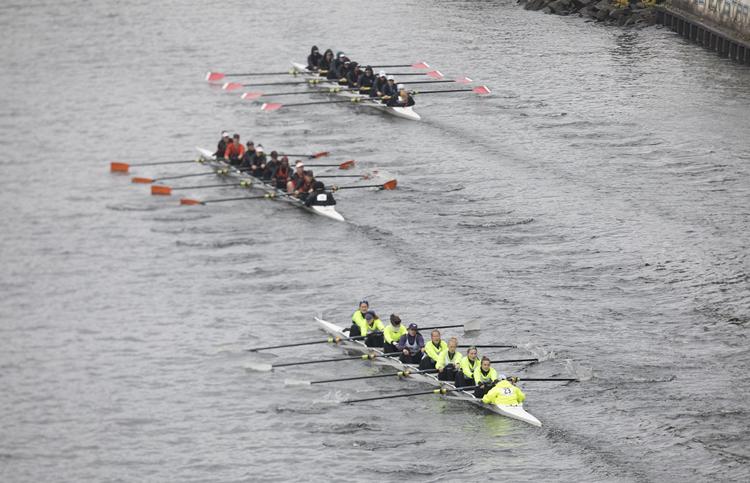 After the success of the fall season at the Head of the Charles, Head of the American, and Head of the Lake, the Washington rowing team is finally back for Spring action, with upcoming matchups on Lake Las Vegas this weekend. 
The women's crew, who just last spring became the first team ever to sweep the NCAA Championships, will race against the USC Trojans for the second straight year at the venue.
Last year, the Washington women swept the Trojans in all three races — the first varsity eight, second varsity eight, and the varsity four — en route to a dominant victory. 
The closest race involved the first varsity eights, where the Huskies won by four whole seconds.
Under second-year head coach Yasmin Farooq, this has become a new tradition for the women's crew team, who never used to start their season before the Class Day Regatta in late March. 
"This is the culmination of all of the hard work that these rowers have been putting in all winter long," Farooq told GoHuskies.com. "The season is upon us and everybody is ready to start racing."
The men seem to have followed suit, and will also race before their Class Day Regatta this year at Lake Las Vegas, taking on Dartmouth and Santa Clara in the first and second varsity eight races. 
Last year, the men went on to win every race at the IRA Championships except for the ultimate first varsity eight, which determines the national champion.
Losing by about six hundredths of a second to Yale, the Dawgs finished the runner-ups and the Ten Eyck Champions for having the most overall points. 
Now with the goal of winning a national championship again, the Huskies are looking to start their season earlier so they can thrive later in the year. 
"We've learned that we need to race with more poise and discipline to be successful at this level," long-time head coach Michael Callahan told GoHuskies.com. "We feel if we have done the work in the winter, we will have a successful trip to the desert."
Races are set to begin at 9 a.m. on Saturday with the women's races and the men's races against Dartmouth, and will continue into the early afternoon with the men's races against Santa Clara. 
Reach reporter Alec Dietz at sports@dailyuw.com. Twitter: @AlecCDietz